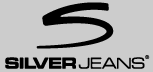 A great pair of blue jeans is an absolute essential to any wardrobe!  I can't think of another article of clothing which is so versatile as a pair of jeans.  You can dress them up with a great jacket or fancy blouse and pair of heels, or totally slop them out with a t-shirt and flip flops, and everything else in-between.  For this reason, I take my jeans shopping very seriously.
A good pair of blue jeans will last you YEARS, so this is one piece of clothing that you need to look at as an investment before purchasing.  I have heard that Silver Jeans make denim which fits you like a glove, but I have never owned a pair...until now.  Read on to see what my thoughts of the Frances 18 Boot Cut Low Rise Blue Jeans, which I reviewed.
I was sent the Frances 18 Boot Cut Low Rise Jeans from Silver Jeans, which retail for $85.00.
I guess the first thing that I have to tell you about the Frances 18 Low Rise Boot Cut Jeans from Silver Jeans is that I've looked for jeans like this for YEARS!  I can't tell you how many times and in how many stores I've searched to find a pair of distressed, ripped up jeans like this.  I shop in the Misses section of any department store now, but jeans with holes in them are just not to be had.  I even resorted going back into the Juniors section, but even their jeans didn't look right to me and the fit was just awful!  I don't know why the cut of Juniors' jeans are so different than misses, but believe me, they are.
Then, I happened to see the Frances 18 Jeans from Silver Jeans and knew that this was what I had been looking for all along!  I was absolutely thrilled when I received them in the mail for they were the perfect color and had the perfect amount of holes and distressed accents to them.  There was only one problem...I had mistakenly ordered them two sizes TOO BIG!  Since gaining my weight after weaning Riley, I just don't seem to have a good idea of what size to get in pants anymore.
This is where the friendly folks at Silver Jeans stepped in.  They checked in with me to find out whether the fit was a good one and when I mentioned that the waist was a little big, but that it was no big deal, they just wouldn't have it!  They insisted that I send the jeans back right away and they would send me another size.  They were so dedicated to making sure that I really got the fit I needed and truly experienced how great Silver Jeans could be.
I am so glad that they talked me into exchanging the jeans for the right size!  I absolutely LOVE the way these fit.  They seem to hug all of the right parts of my body without making any of it overly tight.  There is only one thing I would change, if I could, and that would be to either have a version of these which are not SO low rise or to raise the waistband on these about an inch.
I knew when I ordered these that they were low rise, but in my opinion, they are a little too low.  If I don't have a shirt long enough to cover my behind when I sit down, you might get a slight plumber's crack view and I tend to get a draft.  :)  If they were just one more inch higher, I think my behind would be draft-free when I sit down!  Other than that, I feel like I designed these jeans myself for they are perfect!  Check them out in the pictures below:
The picture below on the left shows the all important rear view, which I think looks pretty darn good!  :)  I love the distressed look to the "S" on the pockets.  The rear pockets on my Silver Jeans are also located in a very flattering part of your derriere.  I don't know how many times on low rise jeans I've seen the pockets placed too low so that half of the pocket is actually on the back of your leg.  This tends to make your butt look saggy and not very appealing.
If the picture to the upper right looks familiar, it's because I have used it in many of my posts for Chevy.  I loved my Silver Jeans so much, that I wore them the day I went to pick up my new car from the dealership because I knew I'd be having my picture taken that day and I thought these jeans looked AWESOME!
Disclosure:  I received the Frances 18 Low Rise Boot Cut Jeans from Silver Jeans in order to facilitate my review. No other compensation was received. This product review is based on my own personal experiences with this item and is completely honest and objective.
I'm a former 7th grade Science teacher turned stay-at-home mom that lives in Houston, Texas. I am married to my college sweetheart and have a beautiful daughter named Riley, who definitely keeps me on my toes! I am also involved in starting a small business which would both manufacture and sell an invention that I've patented, called Toothpaste 2 Go. I love interacting with my readers and hope to learn as much about you as you learn about me!
Melissa @ Mommy Living the Life of Riley!