Colossal Christmas Countdown:

47 Days Until Christmas!

The holidays are rapidly approaching and with them usually comes a multitude of invitations to gather with family and friends.  Unfortunately, it is extremely hard to stick to a sensible diet around these times and the temptation to eat all of the yummy treats we're barraged with can simply be too great.  Of course, just because we gain a few extra "Christmas pounds" doesn't mean we still don't want to look slim and trim at all of the holiday functions we attend.

Thank goodness for quality shapewear! Slimpressions is a women-owned enterprise that manufactures, distributes and markets a premium line of balanced, everyday women's shapewear designed to slim a woman's body, create an illusion of weight loss and boost her confidence.  Sounds pretty good, right?  Well, I had the opportunity to sample the Tanks a Lot Control Tank Top to see if their garments could help me hide the unsightly rolls and bulges that have seemed to pop up overnight (or since I've been eating all of Riley's Halloween candy).  Keep reading to find out whether or not it lived up to its claims.
I reviewed the Tanks a Lot Premiere Seamless Control Tank Top Shaper from Slimpressions, which retails for $62.00.
I've worn numerous pieces of shapewear before, but have to admit that all of the ones I've worn went around my legs in one way or another.  I was very leery of the Tanks a Lot shapewear from Slimpressions for it didn't fasten in the crotch area or have a bottom portion, like a pair of shorts, which would keep it from rolling up.  Their website claims that Slimpressions garments use a patented seamless technology to leverage various weaves within one comfortable, streamlined torso.
The ribbed midriff provides extra compression and structure to smooth and shape jelly belly, muffin top, back fat and bra bulge. This magic middle conforms to every body type whether you sport an hourglass, cylinder, pear or apple body shape. The jersey top makes our body slimmers appear to be layering pieces. We even designed a mesh weave in the arm pits of our patent-pending sleeved garments for added breathability. Further, our Top Sleekret slimmers were designed to sit on the hips and work with a woman's body to minimize those roll-ups and STAY IN PLACE.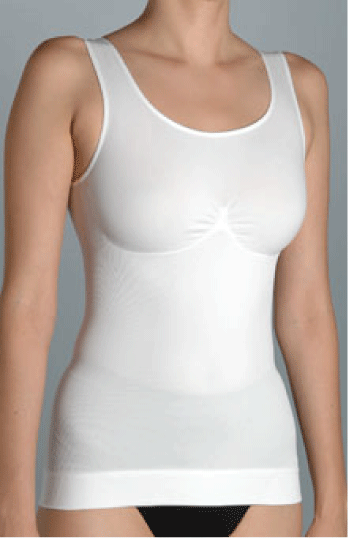 I was very excited to try the nude colored Tanks a Lot and followed the instructions for putting it on, which was a little different than I expected.  You are supposed to actually put this on feet first.  I've never, ever put a tank top on in this manner before, but I think it is supposed to help minimize the roll up from the bottom and to ensure that the tank covers your hips fully.
Once the Tanks a Lot was on, I felt instantly slimmer and trimmer and automatically looked much better in the knit shirt and jeans I layered over it.  I also loved how the ribbed material in the torso area made me feel much more put together and less flabby.  Thank goodness that there wasn't any confining material in the bust area, so that "the girls" weren't made any smaller at all.  I loved how my midriff was tighter and didn't show the muffin top that seems to appear when wearing jeans.
I also really liked how the Tanks a Lot shapewear helped to hide any "overhang" from the back of my bra area.  Basically, the shapewear was comfortable, didn't roll up on me, successfully camouflaged my midsection and back's flaws and went well with a variety of shirts and dresses in my closet.
I was really pleased with the results provided by the Tanks a Lot Control Tank Top from Slimpressions.  This garment appears very durable and I believe it will withstand years of regular use.  I also love how easy it is to care for, since it is machine washable.  If you would love to hide the extra holiday pounds you may already be accumulating so that you look great at all of your holiday parties this season, then I highly recommend checking out what Slimpressions has to offer!
Disclosure:  I received the Tanks a Lot Premiere Seamless Control Tank Top Shaper from Slimpressions in order to facilitate my review. No other compensation was received. This product review is based on my own personal experiences with this item and is completely honest and objective.
I'm a former 7th grade Science teacher turned stay-at-home mom that lives in Houston, Texas. I am married to my college sweetheart and have a beautiful daughter named Riley, who definitely keeps me on my toes! I am also involved in starting a small business which would both manufacture and sell an invention that I've patented, called Toothpaste 2 Go. I love interacting with my readers and hope to learn as much about you as you learn about me!
Melissa @ Mommy Living the Life of Riley!