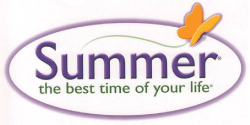 Nap time and bedtime in my house are always adventures, thanks to my daughter Riley!  Never in my life have I seen such a night-owl that can entertain herself for hours instead of just laying quietly in her bed and drifting peacefully off to sleep.  My daughter chooses instead to throw late-night parties! :party: All of this activity means that her father and I have to be vigilant about monitoring her in her bedroom so that she stays safe.
We've used a baby monitor for years, but honestly, it just hasn't been able to keep up with her so far.  Recently, I had the chance to review the brand new Baby Touch Digital Color Video Monitor from Summer Infant.  Can the latest technology finally give us the monitoring scope we've been needing for so long?  Keep reading to find out!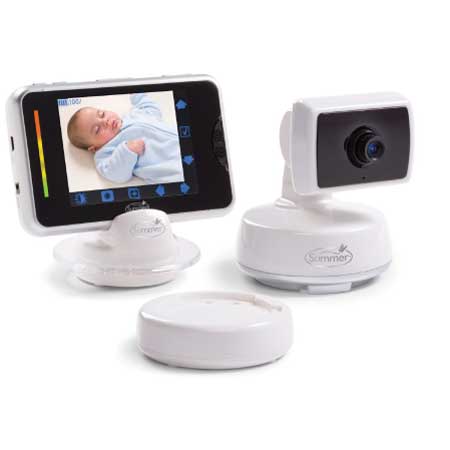 The Summer Infant Baby Touch is small in size and sleek in design, it is the first-ever touch screen video monitor.  With a generous 3.5" touch screen LCD panel, parents can interact and keep an eye on baby using the same smart phone technology available today.  A simple touch of the screen gives parents the ability to adjust the brightness, pan/scan and zoom.  The super quiet camera can be remotely activated so parents can reposition their viewing angle to see baby at all times – even in the dark.
The camera also comes complete with a back-up battery pack for uninterrupted service in the event of a power outage.  Lastly, the Baby Touch includes a two-way talk-back feature so mom and baby can be in touch at all times.  Revolutionary and feature-rich, the Baby Touch represents the next generation of baby video monitoring.
Watch the video below for a detailed demonstration of the innovative Baby Touch Digital Color Video Monitor's many bells and whistles:
This baby monitor is an informational powerhouse and can seemingly do it ALL!  Here are some of its special features in greater detail:
Talk Back Button
Video Sleep Mode - While operating on battery power, the video screen will go to sleep to conserve battery power.  Audio and sound lights will function normally.
Sound Lights
Quick View/Video On/Off Button
Night Vision - In a darkened room, the monitor will automatically use its infrared LED's to transmit a clear image of baby, so you can see your child at night.
Multi-Position Camera/Microphone
A/V Cable
Footrest - The monitor has a built-in footrest for tabletop convenience.
Belt Clip - For convenience and portability, you can clip the monitor to your belt or waistband.
I can't begin to express my gratitude to Summer Infant for creating such an awe-inspiring baby monitor!  Finally, we can keep up with Riley, no matter what her late-night antics entail.  As a matter of fact, thanks to the Summer Infant Baby Touch Digital Color Video Monitor, we have almost succeeded in completely potty-training my daughter.  You see, Riley used to like to go poop in her diaper upstairs in the privacy of her bedroom.
It didn't seem to matter what we did, she would always hold it until either nap time or bedtime and then go off into a corner of the room and poop in her diaper.  Then she would inform us that she needed to be changed.  We were at our wits' end on how to break this pattern, but because she would escape to a corner of her room that we couldn't view with the stationary baby monitor we had before, it was next to impossible.
Now, because we can easily scan her room with the remote camera pan feature, we have been able to intervene and take her to the potty when she starts to fall into her old habits.  After almost a year of struggling, Riley is finally pooping in the potty!  YAY!  :thumbs up:
I emphatically recommend the Summer Infant Baby Touch Digital Color Video Monitor!  As picky a consumer as I am, I honestly can't think of one issue I've had with this baby monitor or one thing I would change.  Now that's saying something!  If you are in the market for a top-notch baby monitor that does it ALL, don't hesitate to buy the Baby Touch from Summer Infant!
Additional Baby Products from Summer Infant:
Disclosure:  I received the Baby Touch Digital Color Video Monitor from Summer Infant in order to facilitate my review. No other compensation was received. This product review is based on my own personal experiences with this item and is completely honest and objective.
I'm a former 7th grade Science teacher turned stay-at-home mom that lives in Houston, Texas. I am married to my college sweetheart and have a beautiful daughter named Riley, who definitely keeps me on my toes! I am also involved in starting a small business which would both manufacture and sell an invention that I've patented, called Toothpaste 2 Go. I love interacting with my readers and hope to learn as much about you as you learn about me!
Melissa @ Mommy Living the Life of Riley!