Colossal Christmas Countdown:

28 Days Until Christmas!

Riley is an extremely curious child and always seems to be into everything!  For her own safety (and the safety of our home's possessions), I've come to rely heavily on child-safe gates.  I have bought a few different styles of these gates in order to section off various rooms of our home as well as create a permanent playard when Riley was younger.

Summer Infant, a leading manufacturer of baby products, generously allowed me to review one of their most customizable child safety gates yet, the Sure&Secure Custom Fit Gate.  Keep reading to learn more about this fabulous safety product!
I reviewed the
Sure&Secure Custom Fit Gate
from Summer Infant, which retails for $120.00, but is currently on sale for $99.99 with FREE SHIPPING!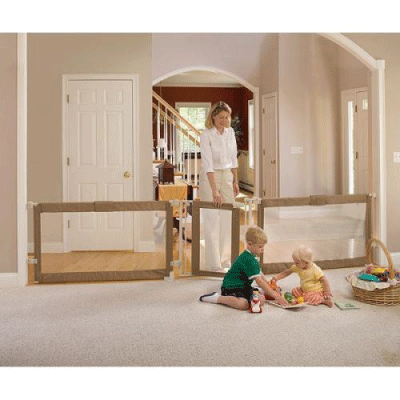 I have never seen another child safety gate as versatile or secure as the Sure&Secure Custom Fit Gate from Summer Infant.  This amazing gate is HUGE, and can easily stretch up to 12 feet long in order to section off the largest rooms in your house.  In my house, we have an open floor plan and so the space between rooms looks identical to the picture shown above.  With the Sure&Secure Custom Fit Gate, even the largest entryways in my home are no match, since this gate can extend anywhere from 70 inches to 144 inches.
I love the versatility provided by this gate and would love to barricade our formal dining room with it.  We have so many breakables in this room that it would be impossible to baby-proof, and if it was successfully blocked off, Riley could have access to the entire downstairs of our home.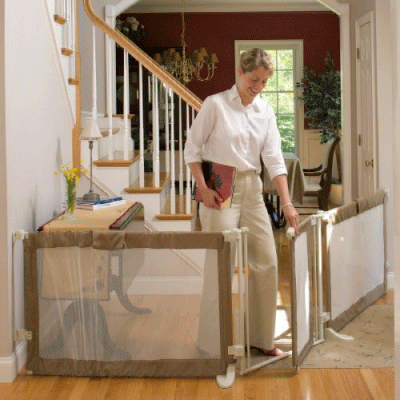 Of course, I will probably end up using the Sure&Secure Custom Fit Gate upstairs in order to block off the two hallways as well as the top of the stairs, located right outside of Riley's room.  Soon, she will be out of her crib and in her new twin-size bed.  This means that she will need access to the bathroom so that she can go potty during the night.  Her bathroom is located to the left of her room, but on either side of it are two hallways and the top of a stairwell.
There is no way that I could sleep soundly during the night if I thought that Riley could be wandering the upstairs halls and rooms as well as possibly falling down the stairs.  Because the Sure&Secure Custom Fit Gate is so flexible, it can be bent into any shape or configuration needed.  This feature would allow me to successfully barricade off the hallways and stairwell while still giving her access to the bathroom.  Whew!  What a relief knowing that this huge safety concern will be successfully taken care of!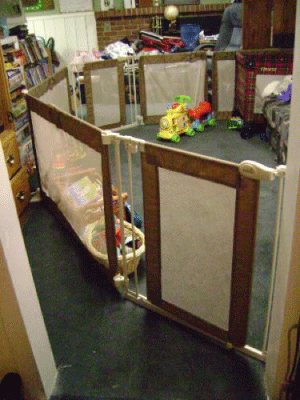 The Sure&Secure Custom Fit Baby Gate can even serve as an extremely large permanent playard, perfect for babies and young toddlers just beginning to walk.  Simply purchase two of these gates and hook them together to form one large structure, such as in the picture shown below.  When Riley was smaller, we had a playard like this, and I can't tell you how much better I felt knowing that Riley was out of harm's way when I needed to dash out of the room for a minute, to say, use the bathroom.
Finally, I really like the neutral-colored mesh panels which are easy to clean and the mesh material also makes the panels simple to see through so that you can keep an eye on your child while inside.  I'm also a big fan of the self-locking and self-closing walk-through door.  Now, I don't have to constantly second guess myself and worry about whether or not I forgot to close the gate's door behind me.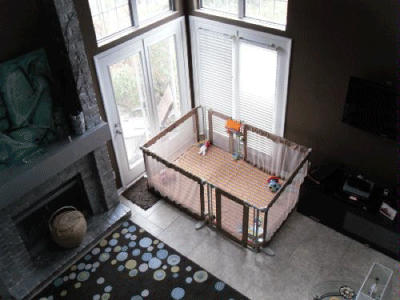 The only major downside to this safety gate is that it must be physically installed into your walls, if not using it as a playard.  This means that you need to make sure you have it exactly where you want it and after your child outgrows it, you will need to repair the holes left behind from the drilling.  Of course, being attached to the walls is part of why this safety gate is so stable and secure.
If you are looking for a strong and sturdy safety gate for your baby or toddler, which can configure to absolutely any shape you need, then I'd highly recommend the Sure&Secure Custom Fit Gate from Summer Infant.  With washable mesh panels, a self-locking walk-through door and a gate that can secure even the largest of rooms, you can rest assured that your little one is safe from harm.  If you choose to purchase two of these gates and lock them together, you will create the large playroom of your baby's dreams!
Disclosure:  I received the Sure and Secure Custom Fit Gate from Summer Infant in order to facilitate my review. No other compensation was received. This product review is based on my own personal experiences with this item and is completely honest and objective.
I'm a former 7th grade Science teacher turned stay-at-home mom that lives in Houston, Texas. I am married to my college sweetheart and have a beautiful daughter named Riley, who definitely keeps me on my toes! I am also involved in starting a small business which would both manufacture and sell an invention that I've patented, called Toothpaste 2 Go. I love interacting with my readers and hope to learn as much about you as you learn about me!
Melissa @ Mommy Living the Life of Riley!