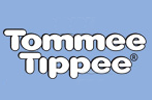 As parents, you know that feeding your little one and weaning them from the bottle can be a challenge. We've all seen the pictures of a baby sporting a bowl of spaghetti or other assorted food on their head, covered from head to toe in it and wearing a huge grin. I really, really didn't want that experience when I had Riley! I'm sort of a neat freak and wanted to be able to always have control over the bowl of food and not have it go sailing through the air and hit the wall.
Thankfully, Tommee Tippee wanted to prevent you from this feeding nightmare too and has invented some of the most creative and ingeniously designed toddler feeding products. I was fortunate enough to review three of their feeding products. Keep reading to see why I am such a fan of Tommee Tippee!
PRICE: I was sent the following items from Tommee Tippee and Mom Bloggers Club:
I was first introduced to Tommee Tippee several months ago when I first reviewed one of their explora truly spill proof cups for Riley. I have to admit that I absolutely fell in love with it and went out to purchase several more. Now, we use Tommee Tippee exclusively for all of Riley's drinkware. So, you can imagine how excited I was to have the opportunity to review one of their explora truly spill proof water bottles as well as the easi-mat and weaning bowls.
I am happy to report that Tommee Tippee has done it again! The explora truly spill proof water bottle has the patented Tommee Tippee drinking valve in it, which is the same valve that all of their drinkware has. The great thing is that this valve is durable, cleans easily in the dishwasher or by hand, and is TRULY spill proof! Riley hasn't been able to make one of her Tommee Tippee cups spill yet and believe me, she is very hard on her drinkware!
I really loved the explora weaning bowls with lid and spoon too. The two plastic bowls are your standard BPA free plastic feeding bowls, except they do have a large gripper handle which I especially liked. The lid and spoon though, are fantastic! The spoon fits snugly on the top of the weaning bowl lid and there is a cap on the lid which snaps over the spoon to both secure it in place and protect the feeding end of the spoon from getting dirty. This is absolutely perfect for travel! Now you can just toss the weaning bowl, spoon and lid in your diaper bag and you are ready to feed your child solid foods anywhere, and do it with a perfectly clean spoon too!
Finally, the explora easi-mat might be my new favorite Tommee Tippee product! I guess sometimes the simple ideas can be the best. This silicone mat lies on your table or highchair tray and doesn't slide around because the silicone material "grabs" the flat surface it's lying on. Next, you simply suction the bottom of your feeding bowl onto the mat and VOILA! the bowl is stuck and isn't going anywhere!
The neat thing about the easi-mat is how it makes cleanup easier by surrounding the feeding bowl with a fairly large area, where spills happen most often. It also works with any flat-bottomed bowl! I have several BPA-free plastic bowls which have a flat bottom and this actually works on all of them. YEA TOMMEE TIPPEE! I wish I would have discovered this brand before Riley was born so I could have experienced their entire line of products from the beginning!
Disclosure:  I received the explora truly spill proof water bottle, explora weaning bowls with lid and spoon, and explora easi-mat from Tommee Tippee and Mom Bloggers Club in order to facilitate my review. No other compensation was received. This product review is based on my own personal experiences with this item and is completely honest and objective.
I'm a former 7th grade Science teacher turned stay-at-home mom that lives in Houston, Texas. I am married to my college sweetheart and have a beautiful daughter named Riley, who definitely keeps me on my toes! I am also involved in starting a small business which would both manufacture and sell an invention that I've patented, called Toothpaste 2 Go. I love interacting with my readers and hope to learn as much about you as you learn about me!
Melissa @ Mommy Living the Life of Riley!