Colossal Christmas Countdown:

4 Days Until Christmas!




I have to admit that I'm pretty vain and when it comes to aging gracefully, I consider that a last resort.  First and foremost, I'd like to slow down the aging process to a crawl...THEN and only then, I'll age gracefully!  :)  Underology is a company that is trying to help us drastically slow down, if not reverse, some of the fine lines and wrinkles that form in our skin and help us regain our skin's youthful appearance.

They've created an entire collection of products which are supposed to help nurture, protect and revitalize your complexion.  I had the privilege of giving four of their products a try for two weeks.  Read on to find out whether or not the Refined Beauty Kit lives up to its anti-aging and skin refining claims!
I reviewed the Refined Beauty Kit from Underology Skin Care, which retails for $186.00, but is currently on sale for $149.00.
I was very excited to try the Refined Beauty Kit for I had a feeling that these four products were just what I needed to give my dulling winter skin a boost!  The Refined Beauty Kit contained the following four products in a small plastic drawstring bag:
Microdermabrasion Kit which includes a 2 oz. container of Exfoliating Crystals and a 4 oz. bottle of Vitamin C Activating Gel
Overnite Revival Mask (1 oz.)
Peptiage Age Defying Multipeptide Serum (1 oz.)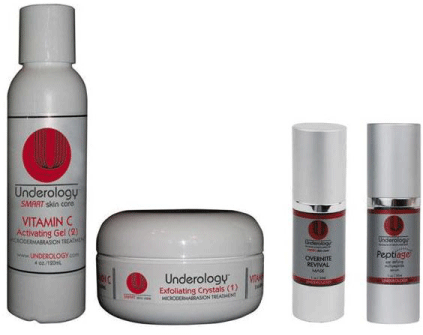 The Microdermabrasion Kit is designed to deliver immediate results and instantly help rid your skin or old, dull skin cells.  The Vitamin C Activating Gel, which contains the SMART antioxidant, also suppresses hyperpigmentation and stimulates collagen and elastin production for radiant, more youthful looking skin.
I really liked using these two products, for my skin immediately felt smoother and healthier.  My pores also felt cleaner and possibly looked a little smaller too.  The microdermabrasion process only took a few minutes to complete and served as a skin pick-me-up!
Next up was the Peptiage Age Defying Multipeptide Serum, which I applied to my freshly cleansed skin both morning and night.  This product is designed to target and treat the facial lines that develop as we age. Six different peptides are used to create the unique effectiveness found in this concentrate to reduce the signs of aging. It is a safer, milder, and less expensive alternative to injectables, which target the same results in a different way.
Finally, every night I would use the Overnite Revival Mask.  This mask can be left on for only 10-20 minutes per night or for best results, leave it on all night long.  After the mask has dried on your skin, you are encouraged to apply your regular moisturizer on top of it before going to bed.  The Overnight Revival Mask contains oxygen plasma, which is designed to deliver high levels of oxygen and nourishment to the deeper layers of skin.
You will notice restoration of the skin's equilibrium, typically impaired by smoking, illness, physical exhaustion and environmental conditions.  Personally, I liked this product the most, for every morning when I woke up, I thought my face looked a little brighter and more refreshed.
As for the results, it's hard to say.  I used the Refined Beauty Kit from Underology for two weeks straight and in that time, my skin felt much less rough and my skin tone does seem more even and definitely brighter.  I didn't really see any noticeable reduction in my fine lines and wrinkles, but it wouldn't be fair to any skin care product to expect to in this short amount of time.
If there's one thing I've learned by being a skin care maven for the last 10 - 15 years, it's that your skin must completely regenerate or go through one full skin cycle for true results to be seen.  This generally takes 6-8 weeks to occur.  I am still using the Refined Beauty Kit and do believe though, based on what I've seen so far, that I will be seeing a difference with prolonged use.  I definitely recommend them to help you stop your aging skin in its tracks and refresh your overall complexion!
Disclosure:  I received the Refined Beauty Kit from Underology Skin Care in order to facilitate my review. No other compensation was received. This product review is based on my own personal experiences with this item and is completely honest and objective.
I'm a former 7th grade Science teacher turned stay-at-home mom that lives in Houston, Texas. I am married to my college sweetheart and have a beautiful daughter named Riley, who definitely keeps me on my toes! I am also involved in starting a small business which would both manufacture and sell an invention that I've patented, called Toothpaste 2 Go. I love interacting with my readers and hope to learn as much about you as you learn about me!
Melissa @ Mommy Living the Life of Riley!