As a full-time blogger, I am on my computer...a LOT!  Probably more than I realize or even want to admit sometimes.  Unfortunately, my diligence on the computer has come with one major downfall.
I have some serious pain in my shoulder and neck area pretty much constantly.  This all began about six months ago, curiously enough about the same time that I started blogging much more.
It took me a while, but I finally put two and two together.  My shoulder and neck pain are actually being caused by the continuous use of my computer mouse, since it is only occurring on my right side.  I knew I had to do something because this pain is starting to affect other areas of my life and changing what I can and cannot do.
Thankfully, Smartfish Technologies gave me the opportunity to review their Whirl Mini Laser Mouse, a new take on the ergonomic laptop mouse.  Keep reading to find out whether or not it worked for me!
I have to admit that I was naturally intrigued by the Whirl Mini Laser Mouse since it takes ergonomic to a whole new level.  This mouse will actually move in ANY direction and has a revolutionary pivoting technology which will free your wrist from its stagnant position while using the mouse.  Smartfish has actually designed this mouse around what they call ErgoMotion, which means that the mouse will adapt itself to your natural hand and wrist movements instead of requiring your hand and wrist to adapt to the mouse's position.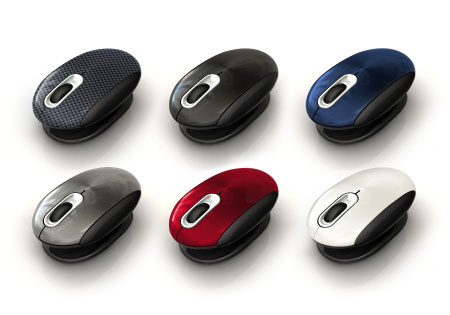 The result is a more comfortable and natural feeling mouse which will increase productivity and PREVENT injury.  I tried it out immediately to see if it would help my shoulder and neck to feel better and I have to admit that I did notice much less strain on these injured muscles while using the Whirl Mini Laser Mouse.  I've only been using this mouse for about a week now, but it seems to have already reduced some of the pain I feel in my shoulder and neck area.
Unfortunately, because these muscles are injured, I believe it will take me quite a while to be completely back to normal.  With the Whirl Mini Laser Mouse though, I know that I won't continue to injure myself any longer from improper posture and technique while using the computer mouse.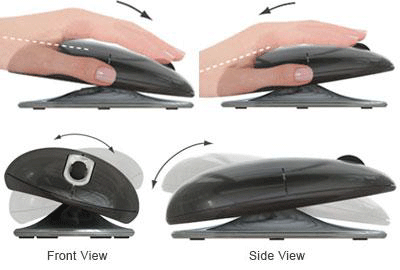 This mouse isn't just ergonomic, it's also got a ton of features I love too.  First of all, it uses an 800 dpi laser which ensures that it is responsive and precise and goes exactly where I want it to go on the screen.  It's also wireless and has a very small nano receiver which plugs in to any free USB port on your computer or laptop.
Since the Whirl is a laptop mouse and designed for travel, the nano receiver also stores itself conveniently inside the mouse, so that it isn't accidentally lost or misplaced.  The Whirl Mini Laser Mouse is a two-button, completely ambidextrous device and offers 4-way scrolling for easy navigation.  Finally, and to me, very importantly, this mouse claims to have a 10-month battery life on 2 AAA batteries, which are also included.  Boy, the Whirl is officially my new best friend!
If you travel frequently on business or are like me and rely on a laptop extensively, then I highly recommend the Whirl Mini Laser Mouse from Smartfish Technologies.  This mouse has a long battery life, is ambidextrous, extremely easy to use and can prevent painful injuries resulting from extensive mouse use.  Now that's one hardworking computer peripheral!
Do you have any tips for staying pain-free while using the computer for extended periods of time?
Disclosure:  I received the Whirl Mini Laser Mouse with Anti-Gravity Comfort Pivot from Smartfish Technologies in order to facilitate my review. No other compensation was received. This product review is based on my own personal experiences with this item and is completely honest and objective.
I'm a former 7th grade Science teacher turned stay-at-home mom that lives in Houston, Texas. I am married to my college sweetheart and have a beautiful daughter named Riley, who definitely keeps me on my toes! I am also involved in starting a small business which would both manufacture and sell an invention that I've patented, called Toothpaste 2 Go. I love interacting with my readers and hope to learn as much about you as you learn about me!
Melissa @ Mommy Living the Life of Riley!