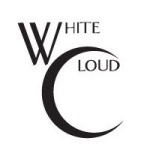 Now that the New Year is here, I'm sure everyone has begun forging their long list of resolutions which will make you both healthier and happier.  Quitting smoking is always a top priority for most smokers every year and I have been extremely curious about the new electronic cigarettes which have recently hit the market.
While smoking a traditional cigarette is definitely detrimental to your own health and possibly even those around you, it also has other side effects such as yellowing of the hair, teeth and nails.  If you smoke inside your home, you'll also find that your home's walls and possessions will become sticky and yellow over time too.  I should know.
Both of my parents smoked the entire time I was growing up and I was a social smoker myself, until I finally quit four years ago.  White Cloud Cigarettes generously allowed me to review their Cirrus II Electronic Cigarette Starter Kit as well as a variety 5-pack of cartridges.  Keep reading to find out how this electronic cigarette could definitely make you healthier and happier in the new year!
I reviewed the Cirrus II Electronic Cigarette Starter Kit from White Cloud Cigarettes, which retails for $249.95 with FREE SHIPPING.  I also reviewed the variety 5-pack of cartridges, which retail for $19.95.
I have to admit that I didn't know anything about electronic cigarettes before receiving the Cirrus II starter kit from White Cloud Cigarettes.  What I've since come to learn and discover, I really like!  First, let me explain what an electronic cigarette is.  It's a way for smokers, both regular and casual, to enjoy the pleasures of smoking, without experiencing the harmful additives and second-hand smoke found in traditional cigarettes.
E-cigarettes give you all the nicotine and flavor you want, but because they contain no tobacco or odor and aren't lit with a flame, you can smoke them anywhere.  Another major benefit is that e-cigarettes won't pass on second-hand smoke to those around you and they won't make your clothes, skin and breath smell bad either.
E-cigarettes don't burn the same way that traditional cigarettes do.  Rather, they have an atomization chamber that contains nicotine, flavoring, water and propylene glycol, a food additive commonly found in mouthwash.  When you take a drag on an e-cigarette, a heating vapor coil is automatically activated, while liquid from the atomization chamber passes over it.  This causes the liquid to be flash heated, which produces a smoke-like vapor that you inhale and exhale like a traditional cigarette.
Being a casual smoker several years ago, I can testify to the fact that I wasn't addicted to the nicotine itself, just the habit of being in a social setting and smoking.  The act of smoking was the part that was so hard for me to break and now e-cigarettes can help make this process much easier.
This revolutionary new smoking alternative, not only simulates cigarette smoke but also the temperature associated with dragging off a common cigarette (50-60 degrees Celsius), thus adding to the psychological habit without adding the hazardous substances which have been proven to cause cancer, including carbon monoxide, nitrogen dioxide, hydrocyanic acid, acrolein, arsenic, lead and hydragyrum.
The White Cloud Cirrus II Starter Kit comes with two cigarette batteries with red LED light at the end, an express USB battery charger and five SimpleSmoke cartridges.  The batteries I received were already charged right out of the box, and all I had to do in order to begin smoking, was pick out the flavor of cartridge I wanted to try and screw it onto the end of one of the cigarette batteries.  Next, I took about a 3-4 second drag off of the e-cigarette and the next thing I knew, I received a big throat hit that felt just like I was smoking!  I even felt this hit down into my lungs too.
This sensation lingered for quite a while just as it does when smoking a traditional cigarette.  The flavor was harder to experience for me, since I didn't really taste it in my mouth.  I considered this a benefit though, since I always hated the way that smoking made my breath smell and my mouth taste afterwards.  With the White Cloud Cirrus II, I didn't get any of the residual aftertaste of smoking a traditional cigarette.  The vapor also came out of my mouth and nose just like real smoke and I definitely felt like I was smoking the real thing!
What's really cool about the Cirrus II, is that this battery will endure 7.5 hours of actual smoking per charge.  I also noticed that the battery holds a charge very well and only takes 50 minutes of being attached to your computer via the accompanying USB cable, to fully recharge again.  The Cirrus II is 30% shorter and lighter than their original model, the Cirrus.  I was impressed at how real it both felt and looked.
The heft of the e-cigarette was just slightly heavier than a traditional cigarette and it was about the same length as a typical 100's cigarette.  Personally, I thought the White Cloud Cirrus II is a wonderful e-cigarette, but since I no longer smoke anymore, I also wanted to show you what a regular smoker thought about it.  I found the following video on YouTube from a man who typically reviews electronic cigarettes.  Here's his take on the White Cloud Cirrus II:
Finally, I have to tell you all about the wide variety of cartridges for sale by White Cloud Cigarettes for use with the Cirrus II.  These cartridges come in different levels of nicotine strength (extra-strength, regular-strength, light and NO NICOTINE) and each cartridge requires absolutely no maintenance.  When you are done with a cartridge, simply unscrew it from your cigarette battery and toss it in the trash.
These cartridges also come in a variety of flavors such as menthol, clove, tobacco, vanilla, chocolate and espresso.  Each cartridge is the equivalent of two packs of cigarettes and so a five-pack of cartridges is really like buying a carton.  Here is another great benefit of the White Cloud Cirrus II, for a carton of traditional cigarettes costs around $40-$50, while a 5-pack of White Cloud cartridges only cost $19.95.  Now that's real savings that will definitely add up quickly!
I really liked the light hint of flavor in the vanilla and chocolate cartridges and would love to now be able to smoke outside again with my friends at parties.  The only difference is that I will be enjoying my e-cigarette without nicotine, tobacco or any harmful carcinogens whatsoever!  What a neat way to still be able to enjoy the act of smoking without all of the downsides and health risks associated with smoking a traditional cigarette.
Do you have any tips for how to make quitting the smoking habit easier?
Disclosure:  I received the Cirrus II Electronic Cigarette Starter Kit and Variety 5-Pack of Cartridges from White Cloud Cigarettes in order to facilitate my review. No other compensation was received. This product review is based on my own personal experiences with this item and is completely honest and objective.
I'm a former 7th grade Science teacher turned stay-at-home mom that lives in Houston, Texas. I am married to my college sweetheart and have a beautiful daughter named Riley, who definitely keeps me on my toes! I am also involved in starting a small business which would both manufacture and sell an invention that I've patented, called Toothpaste 2 Go. I love interacting with my readers and hope to learn as much about you as you learn about me!
Melissa @ Mommy Living the Life of Riley!