It seems that all small children have a favorite stuffed animal, soft toy or "lovey" of some kind.  These valuable companions usually go everywhere with your child: outside to play, at the table during meal times and definitely off to bed during nap time and bedtime.
The more cherished a toy is to a child, the dirtier it seems to get and the more delicate you must be when the toy needs cleaning.  Tossing it into the washer and dryer is definitely the easiest method of cleaning your children's toys, but being exposed to the inner parts of the washer and/or dryer can result in ripped and ruined toys.  :cry:
That's why I'm glad that there's Teddy Needs a Bath!, an eco-friendly, high-quality, 100% cotton washer and dryer bag that makes washing your child's toys, clothes and shoes super easy.  Keep reading to learn more!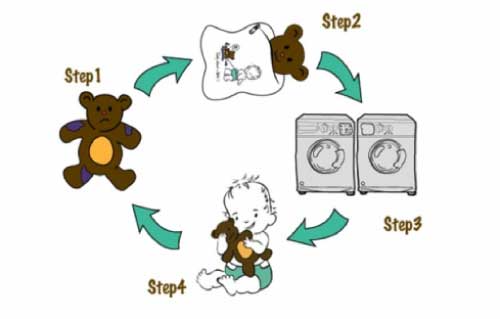 Nicole was a new mom who wanted a quick and easy to way to wash all of her old, dusty stuffed animals so that she could pass them on to her daughter and also wanted to wash the brand new toys her daughter was receiving.  The result is Teddy Needs a Bath!, a high-quality, 100% cotton bag which allows you to toss your child's favorite toys, clothes and shoes directly into the washer and dryer without the fear that the items will be permanently misshapen, ripped or mildew.
There are many benefits to using Teddy Needs a Bath! for your children's toys such as:
Health:  Studies have been done to show that washing a stuffed toy in hot water and then drying it in hot air effectively kills harmful bacteria and dust mites. Studies have also shown that exposing your children to dust mites at an early age can cause the onset of Asthma.
Environmental:  Teddy Needs a Bath! is a great way to reduce the amount of toys being thrown out, facilitate the idea of reusing the toys we have, or washing them and recycling to a new owner.
Save Money:  In the past, it may have seemed easier to just discard a dirty stuffed toy and replace it with a new one. But in these times of overspending, we have learned how to cut back on unnecessary purchases. Teddy Needs a Bath! makes toys look, feel and smell brand new, eliminating the need for new toys.
| | |
| --- | --- |
| | |
Since May is also National Asthma and Allergy Awareness Month, I wanted to be sure to pass along some vital information and tips for reducing household allergens inside the home.  If you have a child that's allergic to dust or appears to have "indoor allergies", keep reading to learn more about a hidden threat that's lurking in your home and even in your child's favorite stuffed animals, as well as what you can do about it:
Dust mites are tiny, microscopic organisms that live in our bedding and in the other warm, dark places in our homes. Although these little buggers don't bite, they can cause allergy problems in young children and in some adults.
Carpeting and upholstered furniture are also home to these mites, who prefer to hang out in areas where sloughed-off human skin cells come to rest. They also prefer warm, moist air, so if you use a humidifier in your home, the dust mites can begin to multiply rapidly. Interestingly enough, though, the dust mite itself is not the cause of most people's allergies – the droppings from these pests actually cause irritation. Children are most susceptible to these allergens, but fortunately, there are several ways to prevent over-exposure.
First, don't let your child sleep on the sofa or carpeting. Dust mites are very plentiful in these places – vacuuming won't remove all of them. Dust mites will burrow down into the carpet padding and a sofa is too thick for the vacuum to pull the dust mites out.
Next, if your child is experiencing increased allergy or asthma problems while at home, try covering his or her bed with an allergen cover. This has been proven to reduce the effect of dust mite allergens on children by as much as eighty percent. Wash your child's bedding in hot water regularly, as hot water is the only way to kill the dust mites when washing bedding or clothing.
In addition, one of the most overlooked areas of dust mite infestation is in stuffed animals. Often, these stuffed animals have been around for many years, while the droppings from the mites have continued to build up inside the toy. Running the stuffed animals through a very hot dryer cycle will kill most of the dust mites, although it's best if you can also wash the stuffed animals in hot water before placing them in the dryer. Stuffed animals should be washed about once a month to keep dust mite problems at bay.
Even after the stuffed animals have been washed, don't let your child sleep with them. Not only does this pose a suffocation risk to very small babies, it can also add problems if your baby has respiratory problems. Washing stuffed animals removes most of the mites, but not all, so keep the stuffed animals away from your child's face at night. If your child feels that he or she must have the toy to sleep, remove it as soon as your child has drifted off sleep.
If your child continues to have problems with dust mite allergens, get rid of any stuffed animals that are made of wool or stuffed with down materials, as dust mites seem to be found in these types of materials most often.
If this isn't enough to alleviate your child's allergies, you can also consider removing the carpeting from his or her room. This can greatly reduce the number of allergens in the bedroom. Over time, carpeting can harbor dust mites, their droppings, and other allergens. By replacing carpeting with a hard floor surface, you can reduce the amount of dust mites in a room by almost sixty percent, which can really make a difference for children with asthma or bronchial allergies.
Disclosure: I received the Teddy Needs a Bath Washer and Dryer Bag in order to facilitate my review. No other compensation was received. This product review is based on my own personal experiences with this item and is completely honest and objective.
Do you find it difficult to clean your child's stuffed animals, toys and shoes?
I'm a former 7th grade Science teacher turned stay-at-home mom that lives in Houston, Texas. I am married to my college sweetheart and have a beautiful daughter named Riley, who definitely keeps me on my toes! I am also involved in starting a small business which would both manufacture and sell an invention that I've patented, called Toothpaste 2 Go. I love interacting with my readers and hope to learn as much about you as you learn about me!
Melissa @ Mommy Living the Life of Riley!