Earlier this month, I was telling you all about the seemingly endless to-do list of mine and how the holidays were already giving me the blues...before they were even here!  That's when I knew that I needed a relaxing night out with my husband, stat!
Of course, there's no place I'd rather be than at Ruth's Chris Steak House.  On October 18th, we attended their Port Wine Dinner and had a wonderful evening filled with conversation, fabulous food and delicious port wines, with absolutely NO children in the room!
What is the definition of a good wine? It should start and end with a smile. ~ William Sokolin
I found this event particularly interesting, since I didn't know much about port wines before attending.  The good news is that the expert wine afficionados there did a great job of showing me the ropes, and now I think I can "hold my own" in a conversation about port wine.
Ruth's Chris Steak House is also an amazing eating establishment because they never disappoint with anything on their menu. I thought everything was superb, especially the butternut squash bisque and filet mignon.  The bisque was so tasty that one of the other diners asked when would this be on their menu.  I felt very important when the General Manager said that this was a one night only treat especially for us and would not be showing up on their menu!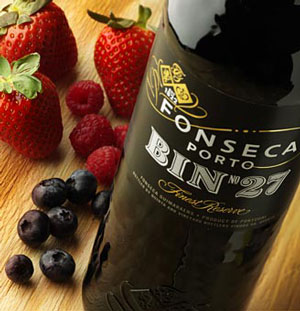 Taylor Fladgate and Fonseca combined with Ruth's Chris to bring this Port Wine Dinner to life.  Port wine is a Portuguese fortified wine produced exclusively in the Douro Valley in the northern provinces of Portugal. In this region, only Taylor Fladgate and Fonseca have inherited the tradition of wine-making skill and knowledge that has made their wines among the consistently highest-rated for generations.
Port wine is typically richer, sweeter, heavier, and possesses higher alcohol content than unfortified wines. This is caused by the addition of distilled grape spirits (aguardente similar to brandy) to fortify the wine and halt fermentation before all the sugar is converted to alcohol and results in a wine that is usually 18 to 20% alcohol.
Ruth's Chris Steak House Taylor Fladgate Port Dinner Menu
1st Course
Caramelized Onion & Goat Cheese Crostini
Port Steeped Figs, Kalamata Olives, Blackberry-Balsamic Reduction
"Port of Manhattan" Bin27 Cocktail
2nd Course
Tawny Poached Pear & Arugula Salad
Minted Vinaigrette, Candied Walnuts, Feta Cheese
Fonseca Siroco White Port
3rd Course
Butternut Squash Bisque
Maple Nutmeg Crème, Fresh Chives
Fonseca Bin27 Reserve Ruby Port
4th Course
Filet Mignon & Sizzling Shellfish Trio
Roasted Garlic Mashed Potatoes
Sequoia Grove Cabernet, Napa Valley
5th Course
Artisanal Cheeses, Fresh Berries & Nuts
Jacques Torres Bin27 Infused Chocolate
Taylor Fladgate 20 Year Old Tawny
Taylor Fladgate Vargellas Vintage 2004
As if that wasn't enough, we were even given a scrumptious recipe for Chocolate Chip Macadamia Cookies by Jacques Torres, creator of the BIN 27 Infused Chocolate we were served for dessert.  The creaminess of the macadamia coupled with the flavor of the chocolate is designed to be paired with the palette of BIN 27 for the perfect holiday experience.
Chocolate Chip Macadamia Cookies
Yields about 28 cookies
Ingredients:
1 1/8 stick butter
3/4 cup brown sugar
1/2 cup sugar
1 cup cake flour
1 cup bread flour
1/2 tsp. baking soda
1/2 tsp. baking powder
1 tsp. salt
1 egg
1 tsp. vanilla
2 cups 60% chocolate discs
1 1/4 cup macadamia nuts
Directions:
1.  Preheat the oven to 350 degrees Fahrenheit
2.  Have ready 2 cookie sheets lined with parchment paper.
3.  In a bowl, stir together the flours, salt, baking powder and baking soda.  Set aside.
4.  In the bowl of a stand mixer fitted with the paddle, cream the butter and sugars on medium speed until light and fluffy.
5.  Add the eggs and vanilla and beat until incorporated.
6.  Reduce the speed to low and add the dry ingredients, beating until incorporated.
7.  Remove the bowl from the mixer and, using a rubber spatula, fold in the chocolate and the nuts.
8.  Using tablespoons or a cookie scoop, drop heaping, rounded spoonfuls of dough onto the parchment lined sheet pans, leaving adequate space between the cookies.
9.  Bake for about 10 minutes in a 350 degree oven, until lightly golden brown.
10.  Remove from the oven, transfer the cookies to wire racks and let cool.
The Ruth's Chris Steak House Port Wine Dinner was a much needed and completely welcomed night out to enjoy fine food, wines and fun with my hubby. I realized I am not a port wine enthusiast, but still had a terrific time learning a great deal about the subject and sampling such fantastic pairings of wine and food!
In my opinion, you can't get a better steak in Houston and the people are so friendly at Ruth's Chris every time we go. When you add a variety of different, quality alcoholic beverages, such as the port wines from both Taylor Fladgate and Fonseca, you are in for one sensational experience!
Disclosure:  My husband and I attended the Taylor Fladgate Port Dinner at Ruth's Chris Steak House free of charge in order to facilitate my review.  No other compensation was received. This product review will be based on my own personal experiences with this restaurant and is always completely honest and objective.
I'm a former 7th grade Science teacher turned stay-at-home mom that lives in Houston, Texas. I am married to my college sweetheart and have a beautiful daughter named Riley, who definitely keeps me on my toes! I am also involved in starting a small business which would both manufacture and sell an invention that I've patented, called Toothpaste 2 Go. I love interacting with my readers and hope to learn as much about you as you learn about me!
Melissa @ Mommy Living the Life of Riley!