I'm thrilled by how much Riley loves books, since it's always been one of my main goals to help her develop a lifelong love of reading. There are so many wonderful children's books out there, many of which I remember reading when I was little, that I would like to pass on to Riley.
Well, Scholastic has found a new, entertaining way to bring all of the great children's books and authors to life with their Storybook Treasures DVD Collections. I had the chance to review two of these collections with Riley. Keep reading to learn more!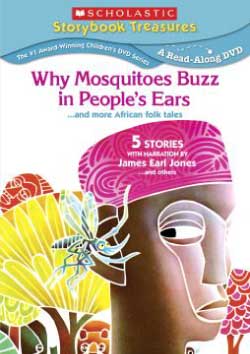 Why Mosquitoes Buzz in Peoples Ears…and more African Folk Tales
Perfect for celebrating Black History Month and learning about stories from the African tradition, Scholastic Storybook Treasures presents five stories on DVD, two of which have never before been released:  "Not So Fast Songololo" and "Mufaro's Beautiful Daughters".
In the title tale "Why Mosquitoes Buzz in People's Ears" - a Caldecott Medal winner and West African origin story from author Verna Ardema and illustrators Leo and Diane Dillon - a mosquito lies to a lizard, who puts sticks in his ears and ends up frightening another animal, which down a long line causes a panic.  In the end, an owlet is killed and the owl is too sad to wake the sun until the animals hold court and find out who is responsible.  The mosquito is eventually found out, but hides in order to escape punishment.  So now, it constantly buzzes in people's ears to find out if everyone is still angry at it.
Other stories include "Hot Hippo"  and "The Village of Round and Square Houses", and the DVD includes Scholastic's ever-popular read-along function.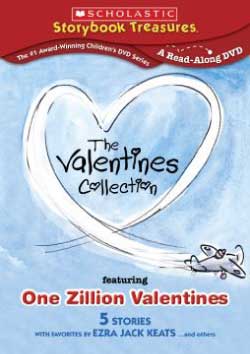 The Valentines Collection Featuring One Zillion Valentines
Five stories about friendship make this the perfect DVD to give in anticipation of Valentine's Day!  When Marvin shows Milton how to make valentines, they decide to make one for each person in their neighborhood in "One Zillion Valentines", an animated adaptation of Frank Modell's sweet book about random acts of kindness and generosity.
The additional stories featured in this collection include "Goggles", Ezra Jack Keats' Caldecott Award Winner, "A Letter to Amy", "Will I Have a Friend" and "Wilfred Gordon McDonald Partridge".  The DVD also includes Scholastic's read-along function, perfect for building early reading skills which highlights words as they're read, allowing viewers to follow the narrator.
Riley greatly enjoyed both of these DVD collections and so did I. It was wonderful to see the brilliant illustrations of these storybooks come to life all while narrated by some first-class readers. I also love how now I have a high-quality option for Riley's television viewing choices beyond what's offered on Nick Jr. and PBS.
I like Sesame Street and Caillou as much as the next person, but it's good to mix it up with less animated offerings from time to time as well. If you would like to inspire a child's love of books in a whole new way, then I highly recommend any of the DVD selections in the Scholastic Storybook Treasures collection.
Disclosure: I received The Valentines Collection DVD and Why Mosquitoes Buzz in People's Ears DVD from Scholastic Storybook Treasures in order to facilitate my review. No other compensation was received. This product review is based on my own personal experiences with this item and is completely honest and objective.
I'm a former 7th grade Science teacher turned stay-at-home mom that lives in Houston, Texas. I am married to my college sweetheart and have a beautiful daughter named Riley, who definitely keeps me on my toes! I am also involved in starting a small business which would both manufacture and sell an invention that I've patented, called Toothpaste 2 Go. I love interacting with my readers and hope to learn as much about you as you learn about me!
Melissa @ Mommy Living the Life of Riley!