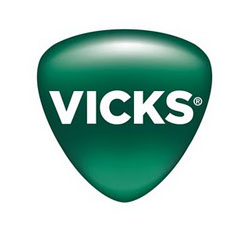 Being a mom is amazing in so many ways...that is, until you get sick.  Once I became a mom, I quickly realized that "taking a sick day" was a thing of the past.  We women are such an integral part of our family's day-to-day routine that the gears literally grind to a screeching halt if we happen to be out of commission.
That's why when the sniffles or the full-blown flu take hold, I lean on the remedy I truly trust to keep me going and relieve all my symptoms: Vicks DayQuil and NyQuil.
I first became acquainted with Vicks as a child.  Every time I would get sick, my mom would whip out the large canister of Vicks VapoRub from the medicine cabinet and slather it all over my chest before I went to sleep.  I can still remember waking up feeling better than I did the night before, thanks to this product.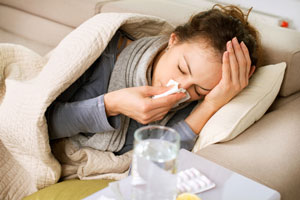 When I became a Science teacher, I found that being in the midst of 150 students each and every day made me a walking germ magnet.  I was always sick it seemed, though I didn't have the luxury of calling in sick whenever I was under the weather.  That's when I learned to depend on Vicks DayQuil and NyQuil to get me through those tough times.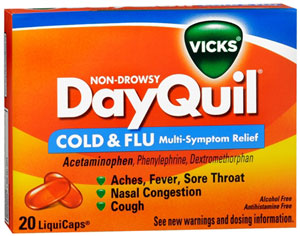 The time-tested formula of Vicks DayQuil Cold & Flu Relief can provide non-drowsy symptom relief for those suffering from a cough, cold or flu. The active ingredients in the formula work to suppress the impulse to cough, help clear nasal congestion for easier breathing, help relieve minor aches and pains, and reduce a fever.
When I would get home from a hard day's work, I would always make sure to take Vicks NyQuil before going to bed.  Sleep is an important part of a recovery from a cold or flu, but it's not always easy to get the rest you need when you are sick. Vicks NyQuil Cold & Flu Relief helps relieve symptoms of a cough, cold or flu so you can get the sleep you need so you don't lose a moment.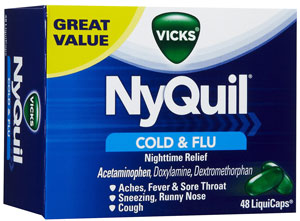 Now that I'm a mom with absolutely no chance of taking a sick day, I rely heavily on Vicks DayQuil and NyQuil to keep me going and quickly get me back on feet again.  I honestly can't remember the last time that I was under the weather and didn't run straight to these two medicines for help.  In my opinion, there's no better products on the market than this daytime/nighttime combo from Vicks.
When using DayQuil/NyQuil, be sure to follow the usage guidelines for warnings and dosage directions or visit http://www.vicks.com for more information.
Disclosure: I participated in a campaign on behalf of Mom Central Consulting for Vicks DayQuil & NyQuil. I received product samples and a promotional item as a thank you for participating.
I'm a former 7th grade Science teacher turned stay-at-home mom that lives in Houston, Texas. I am married to my college sweetheart and have a beautiful daughter named Riley, who definitely keeps me on my toes! I am also involved in starting a small business which would both manufacture and sell an invention that I've patented, called Toothpaste 2 Go. I love interacting with my readers and hope to learn as much about you as you learn about me!
Melissa @ Mommy Living the Life of Riley!