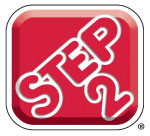 Two of Riley's favorite playthings on this planet happen to be water and dolls!  I've never seen a child love water more than her.  She enjoys swimming, taking a bath, playing in the sprinklers during the summer and even pouring water back and forth between her different play dishes.  Give Riley a cup of water and she will have a blast.  The only thing that could possibly top playing with water, would be playing with water...AND dolls!
Riley loves tiny figurines of all shapes and sizes.  She calls it playing "family", so when Step2 combined the best of both worlds in the Tropical Island Resort Water Table, I knew Riley would absolutely flip...and she did!  Keep reading to learn more!
I reviewed the Tropical Island Resort Water Table from Step2, which retails for $79.99.
The Step2 Tropical Island Resort is a water table fun center designed for children ages 1.5 years old and up. This wet and wild water table offers plenty of splish and splash fun and comes complete with four tiny action figures ready for an adventure.  Of course, because it's made by Step2, you can rest assured that this item is made in the United States, though there are a few imported pieces. :flag: Just look at the many features of the Step2 Tropical Island Resort:
Send play people down the slide or off the diving board
Spin the water wheel carousel
Pump the geyser to watch the water flow
Elevated height puts play area at toddler arms' reach
Includes 14 piece accessory set
Holds up to 7 gallons (26.5L) of water
Designed to hold a 40" Umbrella (sold separately)
Riley waited patiently for me to finish putting this toy together, which didn't take long at all.  The directions were very clear and assembly took me about 30 minutes to complete.  Then, it was time to head outside and take this baby for a spin!  Thank goodness that late February/early March here in Texas had temperatures already reaching the high 70's!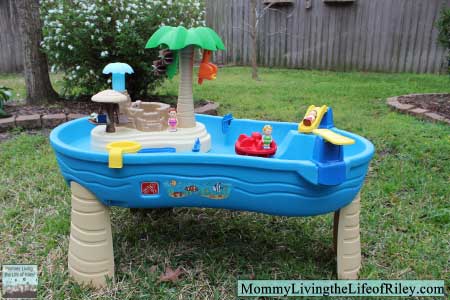 As you can see from the following pictures, the Step2 Tropical Island Resort Water Table just has so many fun activities to do!  There's a water slide, a spinning merry-go-round, a diving board and movable water gates to block the boat from sailing all the way around the table...and that's just the RIGHT HAND SIDE of this toy!
Riley was fascinated by the diving board and once I showed her how to work it, she couldn't get enough of launching her little guys high into the air to splash into the water below.  If you notice on the first picture below, there's an empty hole on one side of the water table's wall.  This hole is for a 40" umbrella (sold separately).  With this affordable add-on, your children can stay protected from the sun's harmful rays while they play to their hearts' content.
The left hand side of the Tropical Island Resort Water Table includes a mini-lagoon which is filled by pumping up and down on the blue geyser.  Pump it hard enough and you'll inadvertently squirt yourself in the process.  My daughter would squeal with delight when she'd accidentally pump the geyser too hard.
There's also a large palm tree which has some spinning gears and a movable monkey hanging from it.  When water's poured on top of the palm tree using either the included yellow cup or blue boat, water will stream down on all sides and make the wheels and gears spin.
The Step2 Tropical Island Resort Water Table is a quality toy that's well-designed and built to last.  There are a few places where removable parts such as the slide and diving board could fit a little better, but other than that, I don't have one criticism of this toy.  Riley looks forward to playing with the Tropical Island Resort every day and it will usually hold her attention for at least an hour!  So if you're looking for a terrific outdoor toy for the warmer months ahead, be sure to take your child on an imagination holiday with this sand and surf-inspired activity center from Step2!
Disclosure:  I received the Tropical Island Resort Water Table from Step2 in order to facilitate my review. No other compensation was received. This product review is based on my own personal experiences with this item and is completely honest and objective.
I'm a former 7th grade Science teacher turned stay-at-home mom that lives in Houston, Texas. I am married to my college sweetheart and have a beautiful daughter named Riley, who definitely keeps me on my toes! I am also involved in starting a small business which would both manufacture and sell an invention that I've patented, called Toothpaste 2 Go. I love interacting with my readers and hope to learn as much about you as you learn about me!
Melissa @ Mommy Living the Life of Riley!