One essential home appliance which has been around for ages in one form or another is the clothes iron.  It seems that housewives have been battling wrinkles since we first learned to wash our clothes, and irons have changed plenty over the years.
Rowenta, one of the leading manufacturers of quality irons, has recently developed the DW2090 Effective Comfort Cord Reel Iron, which makes pressing and steaming garments a pleasure.  I recently had the opportunity to try the Rowenta DW2090 for myself.  Keep reading to learn more!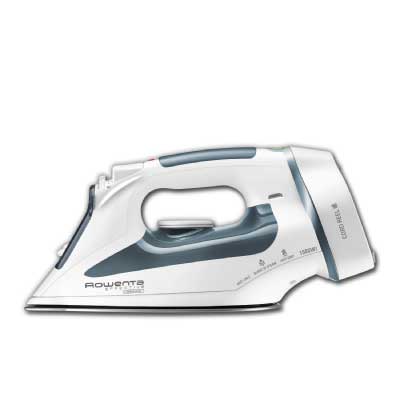 Although I consider myself a domestic lady, I must admit that ironing is one of those chores I've never been a fan of.  Whether I'm getting wrapped up in the iron's cord or putting more wrinkles in than I'm taking out, I've always spent a long time ironing just one garment and never being very impressed with the results.  That's why I was thrilled to meet the Rowenta DW2090, for the list of features that this iron brings to the table is truly amazing.
(By the way, if you're like me and consider yourself to have an "ironing deficiency" :rofl:, make sure to check out these helpful ironing tips on Rowenta's website!)
The new DW2090 Effective Comfort Cord Reel Iron features the Automatic Cord Reel System, which delivers ease of use with the cord length that can be adjusted as needed or completely retracted when stored.  With 1500 watts of power combined, a variable-steam function, the exclusive Thumb Rest feature and comfort handle, the DW2090 is a pleasure to use.
The technology is reinforced by the striking new European design.  The highly polished scratch-resistant stainless-steel Microsteam300 soleplate with the precision tip delivers unsurpassed ironing performance in even the hardest-to-reach areas.
STAY IN TOUCH: Want to be in the loop? You can also check out Rowenta on the following sites:
Rowenta
I decided to try the Rowenta DW2090 out on one of my hardest ironing challenges:  a long-sleeve dress shirt.  By doing this, I quickly discovered three of my favorite features of this clothes iron...the precision tip, which delivers steam and pressing into hard-to-reach areas, the round shape at the back which allowed me to go back and forth without creases and the Automatic Cord Reel System which allowed me to keep the cord out of my way while ironing.
As if that weren't enough, the Rowenta DW2090 Effective Comfort Cord Reel Iron also boasts the following features:
Self-Clean System: – Flushes out loose mineral deposits, ensuring optimal performance
Anti-Calc: – Integrated anti-scale system removes impurities for long-lasting, clean steam
3-Way Auto Shut-Off: – Turns the iron off in 8 minutes if left vertically, and 30 seconds if left horizontally or tipped over
Variable Steam: – Manually adjusts the steam output to the selected temperature or fabric
Vertical Steam: – Allows iron to be used in upright position to remove wrinkles from difficult fabric
Burst of Steam: – Steam is concentrated at the tip to remove hard-to-reach wrinkles from difficult fabric
Comfort Handle: – Soft-touch handle provides comfort and control for precise ironing
Large Soft-Touch Rear: – Provides extra stability when iron is on its heel
Large Water Tank: – Large water tank with 8.45-oz. capacity fills easily at the tap
I really enjoyed using the Rowenta DW2090 to handle my family's wrinkled clothes, but I also loved using it for my newest hobby...quilting!  I'm a huge fan of any type of craft and quilting is my latest and greatest crafting venture.  If there's one thing I've learned so far, it's that quilting equals ironing!  I do it all the time now.  If you'd like to see a Rowenta iron in action on a super cute and easy crafting project, just watch the video below:
Now that's one quick, easy and affordable way to make personalized dolls for your little one!  If you are looking for a top-notch iron to tackle all of your steaming and pressing needs around the house, then I highly recommend the Rowenta DW2090 Effective Control Cord Reel Iron.  This iron is packed with features and most importantly, takes the stress out of the press!
Disclosure: I received the DW2090 Effective Comfort Cord Reel Iron from Rowenta in order to facilitate my review. No other compensation was received. This product review is based on my own personal experiences with this item and is completely honest and objective.
I'm a former 7th grade Science teacher turned stay-at-home mom that lives in Houston, Texas. I am married to my college sweetheart and have a beautiful daughter named Riley, who definitely keeps me on my toes! I am also involved in starting a small business which would both manufacture and sell an invention that I've patented, called Toothpaste 2 Go. I love interacting with my readers and hope to learn as much about you as you learn about me!
Melissa @ Mommy Living the Life of Riley!