Who on this planet hasn't played the classic board game, LIFE, about a zillion times?  I've loved playing the Game of LIFE ever since I was a kid and simply can't resist anytime someone wants to strike up a friendly game of this "realistic" experience.
Thanks to technology, life in general has changed a great deal and the folks at Hasbro have decided that LIFE the board game should get a facelift for the next generation.  Now, the Game of LIFE zAPPed Edition actually integrates your iPad into the fun.  Keep reading to learn more and see whether this modern day LIFE board game was a perfect fit for my family or not!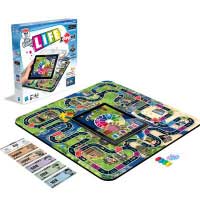 Play your iPad and game board together for an interactive family experience.  The free Game of LIFE zAPPed Edition app brings your game to life with over 100 hilarious clips from America's Funniest Videos.  With the Game of LIFE zAPPed Edition, you can enjoy a whole new way to play and bring your "life" into the 21st century!
Game Objective:
Be the player with the most amount of money at the end of the game.
Game Play:
Add your iPad (compatible with iPad 1 and 2) to the unique gameboard for a truly interactive family experience. The free app brings your game to life as you move around the game board. You still get to move your car from space to space and select your path to retirement, but now you spin, get paid, sue other players and make important decisions all on your iPad. Don't want to be just a plain peg? Go ahead and customize your peg character and add a peg-sessory!
Cue up the Game of LIFE zAPPed app on your iPad, place your iPad on the game board and watch as the technology of the app and the game pieces bring the game to life.  When you land on a designated "America's Funniest Video" spot, you'll unlock a hilarious video that commemorates each important life moment, such as getting married and having children.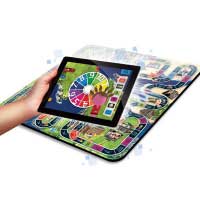 My husband and I sat down to a fun-filled Game of LIFE zAPPed Edition and was happy that Hasbro chose to keep this classic board game virtually the same as it's always been.  There were a few new occupations and of course the money values were updated, but pretty much everything else was the same, down to the rectangular cars and the tiny pink and blue peg people.
I did really enjoy using the iPad as the spinner, the bank and the virtual hub of the entire game.  This definitely gave the classic game an update and made playing this familiar standard fun and exciting all over again.
My favorite feature was the ability to customize the little peg people to look just like you wanted.  Then it made things even more hilarious when you'd watch them perform skits to events that happened in your life, like getting married.  Of course, if you were lucky enough to land on an America's Funniest Video spot, you were really guaranteed to have a good laugh...and isn't that the whole point to board games?
My husband and I laughed a lot and delighted in exploring all of the new nooks and crannies of the Game of LIFE zAPPed Edition.  If you're a fan of the original or are wanting to introduce this classic to your own children, I would highly recommend purchasing this version.
Disclosure: I received the Game of LIFE zAPPed Edition from Hasbro Games in order to facilitate my review. No other compensation was received. This product review is based on my own personal experiences with this item and is completely honest and objective.
I'm a former 7th grade Science teacher turned stay-at-home mom that lives in Houston, Texas. I am married to my college sweetheart and have a beautiful daughter named Riley, who definitely keeps me on my toes! I am also involved in starting a small business which would both manufacture and sell an invention that I've patented, called Toothpaste 2 Go. I love interacting with my readers and hope to learn as much about you as you learn about me!
Melissa @ Mommy Living the Life of Riley!