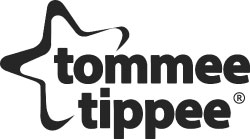 When I was a brand new mom, I didn't want to leave my newborn alone for a second and remember being by her side all day, every day.  I even slept on the couch for almost three weeks, right by her bassinet, to make sure that I could hear every noise she made and continually check on her.
This, of course, left me feeling exhausted and a tad bit frazzled, because I wasn't receiving the rest I needed to keep going.  If only there were a way to vigilantly watch baby during naptimes and at night so that mom and dad could sleep well too and recuperate their strength.
Thankfully, the Tommee Tippee Closer to Nature Digital Video Sensor Pad Monitor does just that.  This complete baby monitoring system not only watches and listens to your child while they sleep, there's even an under mattress Sensi-Sleep Pad which alerts you if for any reason the monitor doesn't detect movement from baby.  Keep reading to learn more!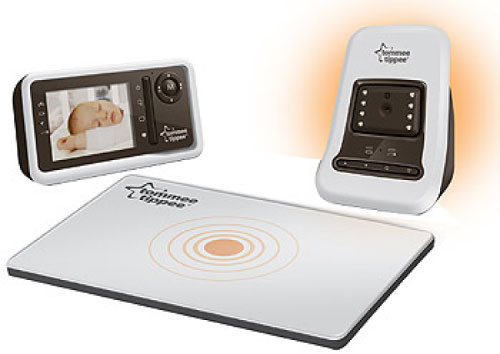 The award-winning Tommee Tippee Closer to Nature Digital Video Sensor pad monitor was intuitively designed to help you stay closely connected to your newborn. Beyond ultra-clear sound and crisp, color video, the system's sensor-pad technology monitors your baby's slightest movement and alerts you if he or she hasn't moved in 20 seconds. The system acts as a virtual tether to your baby, so you can easily watch over them.
This is something regular video monitors can't do as they only alert when your baby makes a noise or when you are watching – but not if you're getting some much needed sleep or your eyes aren't on the monitor. The monitor features a long range, up to 1000 feet, and the latest in interference-free secure technology, letting you keep a close eye on your baby even from afar. It's the only monitor you'll need as baby grows. Use the sensor pad when your little one is still young or at night, and then use the system as a regular video monitor for years to come.
Tommee Tippee's easy to install Sensi-Sleep Pad slides under your baby's mattress and acts as a virtual guardian to detect his or her slightest movements. If there is no movement detected for 20 seconds, an alarm on both the baby and parent unit will sound to startle baby and warn you. You can use this feature until your little one is moving around the crib and you are comfortable they are sleeping well, and then you can use the video monitor on its own.
With a wide 2.8" color screen, the monitor provides ultra crisp video and clear, interference-free audio to let you keep a watchful eye on your baby. Automatic infrared night vision and a zoom function let you look up close without disturbing your baby's sleep. The monitor features a long battery life and the nursery temperature indicator is always on.
The system also offers 3 language choice – English, Spanish and French – for convenient use. The intuitive side bar or menu are easy to use but don't require touching the screen to prevent leaving fingerprint marks. Turn on the night-light, change the sensitivity or adjust the volume all in a simple touch.
The baby unit is equipped with a highly sensitive, voice-activated, interference-free microphone and a camera that will tilt to your preferred position. It has a gentle night-light that can be remotely controlled from the parent unit. The temperature of your baby's room is displayed on the screen of the parent unit, so you can easily gauge your baby's comfort.
The clear talk-back feature with different volumes allows you to calm and reassure your baby with the sound of your voice without entering your little one's room.
STAY IN TOUCH: Want to be in the loop? You can also check out Tommee Tippee on the following sites:
TOMMEE TIPPEE
I really enjoyed the numerous high-quality features of the Tommee Tippee Closer to Nature Digital Video Sensor Pad Monitor.  Although I don't have a newborn any longer with which to test the sensor pad's effectiveness, it appears easy to install due to its thinness and seemed to work well when I used it with one of Riley's larger stuffed animals.  If I was moving her teddy bear around ever so slightly, the Sensi-Sleep Pad's alarm didn't sound, but if I stopped this motion completely, after 20 seconds the alarm did go off on the parent unit.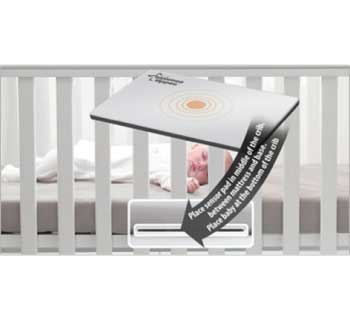 I love how the monitor is effective up to 1000 feet too!  If I would have had this when Riley was a baby, I could have done some gardening and even walked around in the backyard while she was napping and still have been able to keep a close eye on her.  What's neat is that if you get too close to exceeding the 1000 foot range, the parent unit will let you know before losing connection with the baby monitor.
It's also a wonderful idea to display the room temperature of your child's nursery on the parent unit.  My husband and I had to buy an entirely separate device to measure the temperature in my daughter's room and we can't see the reading from our baby monitor.
In order to discover the temperature, we have to actually go into my daughter's room, which can sometimes wake her up in the middle of the night, and if we forget to check the temperature before going to bed, we've found that sometimes it was a little too hot or cold in there the next morning.
Both the video (which is in color) and audio of this baby monitor were crisp and clear and having a talk-back function so that you can speak or sing to your child without actually going into their room is an essential feature.  Tommee Tippee even thought to provide a parent-unit locator so that if you can't find where you left the parent unit, simply go to the baby unit and page yourself.  You'll find the parent unit again in no time!
The only thing I didn't like about the Tommee Tippee Closer to Nature Digital Video Sensor Pad Monitor was that the video camera itself wasn't able to move a full 180 degrees.  When your child is in a crib, this isn't essential and the included zoom function and infrared night vision are more than enough to monitor them accurately.
But if you have an extremely active toddler like I do, then you need to be able to pan their entire room to make sure they're not getting into any mischief when they're supposed to be sleeping.  The video camera angle is able to be tilted, but unfortunately, it's not able to pan an entire room.
Other than that, I couldn't be happier with the Tommee Tippee Closer to Nature Digital Video Sensor Pad Monitor and think this is a wonderfully designed baby monitor for a brand new parent.  Now, you can get some well-deserved rest while your child is sleeping because Tommee Tippee is keeping a watchful and protective eye on your newborn!
Disclosure:  I received the Closer to Nature Digital Video Sensor Pad Monitor from Tommee Tippee in order to facilitate my review. No other compensation was received. This product review is based on my own personal experiences with this item and is completely honest and objective.
I'm a former 7th grade Science teacher turned stay-at-home mom that lives in Houston, Texas. I am married to my college sweetheart and have a beautiful daughter named Riley, who definitely keeps me on my toes! I am also involved in starting a small business which would both manufacture and sell an invention that I've patented, called Toothpaste 2 Go. I love interacting with my readers and hope to learn as much about you as you learn about me!
Melissa @ Mommy Living the Life of Riley!