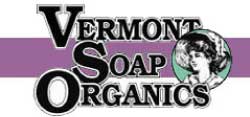 Vermont Soap has expanded its collection of the nation's first certified organic foaming hand soaps with the launch of Tea Tree Mint Foaming Hand Soap.  The new, certified organic foaming hand soap combines the legendary power of Tea Tree Oil with the fresh scent of American grown Peppermint Oil to deliver a healthier alternative to the petrochemical-based germ fighting products prevalent in the marketplace.  It is safe and non-toxic for all living things, except germs.
"With contagious bugs in the news, doctors are recommending that we wash our hands more often and thoroughly," says Larry Plesent, the founder of Vermont Soap.  "Our new Tea Tree Foaming Hand Soap features organic oils that help people fight germs without wrecking their hands and skin," adds Plesent.
It has never been easier to enjoy a luxurious and creamy soap lather.  A quick pump of the hi-tech "foamer" device aerates organic liquid castile soap into a frothy handful of foam.  The all-natural foaming process, which pumps the soap through a series of tiny screens and mixes it with air, is all-natural and does not use any propellants or chemicals.
The foamer unit itself is designed to be reusable and Vermont Soap offers Eco-nomical 16-ounce and 1-gallon refills that can be added to the pump unit once it is empty.  Offered in both the new Tea Tree Mint and Lavender Ecstasy, Lemongrass Zen and Unscented varieties, the SRP for the 7-ounce bottle is $7.78, the 16-ounce refill is $9.89, and the SRP for the 1-gallon refill is $39.98.
New Tea Tree Foaming Hand Soap is made from renewable vegetable and botanical sources:  saponified organic coconut, olive and jojoba oils, glycerin, natural mint tea tree essential oil blend with lavender oil, organic aloe vera and organic rosemary extract.  It has a refreshing scent, a remarkably soft vegetable oil soap feel and is extraordinarily mild and hypoallergenic.
It is also completely natural and free of artificial colors, fragrances, preservatives, and animal by-products.  Vermont Soap does not test their products on animals.  "Tea Tree Foaming Hand Soap contains only pure essential oils that provide aromatherapy benefits for the mind and kill germs on the skin," says Plesent.  "As an organic castile liquid soap based product, Tea Tree Foaming Hand Soap is guaranteed to be free of the synthetic ingredients found in mass-marketed foamers," adds Plesent.
Vermont Soapworks is an organic and natural soap innovator.  In addition to offering the first certified organic foaming hand soaps, other breakthroughs achieved by their line of Vermont Soap Organics include the first USDA Approved, Certified Organic: bath & shower gel; pet wash; spray cleaner; multipurpose concentrated cleaner; and yoga/exercise mat cleaner.
Larry Plesent started Vermont Soapworks in 1992 after experiencing severe skin problems from detergents used by his window washing company.  He began researching healthy alternatives for himself and the many people like him that are sensitive to detergents and synthetic ingredients. 
The company has grown from a two person operation in 1992 to the largest manufacturer of handmade organic bar soap in North America, selling products in more than 2,500 stores nationwide.  Vermont Soapworks also operates a Discount Factory Outlet Store that features an Antique Soap Museum, factory tours and demonstrations.  Vermont Soapworks' manufacturing operation was among the first to be certified as a USDA organic processing facility specializing in topical products.  
I'm a former 7th grade Science teacher turned stay-at-home mom that lives in Houston, Texas. I am married to my college sweetheart and have a beautiful daughter named Riley, who definitely keeps me on my toes! I am also involved in starting a small business which would both manufacture and sell an invention that I've patented, called Toothpaste 2 Go. I love interacting with my readers and hope to learn as much about you as you learn about me!
Melissa @ Mommy Living the Life of Riley!