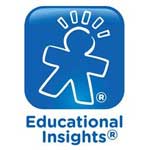 Ever wonder why the digital wrist watch was invented?  Because telling time on an analog watch can be difficult at times, especially for young learners.  What's even more difficult are those elapsed time math problems that teachers continue to ask..."if Billy left home at 8:45 AM on a 6.5 hour train trip to New York, what time will Billy arrive?"
For a math problem such as this, it's often helpful to have a visual guide.  That's why the Watch It! Elapsed Time Clock from Educational Insights was created.  This teacher-invented learning tool is the simplest, clearest way to teach elapsed time...and it doesn't even use batteries!
I reviewed the
Watch It! Elapsed Time Clock
from Educational Insights which retails for $39.99, but is currently on sale for $34.95 with FREE SHIPPING.
Watch It! is the Simplest Way to Teach Students Elapsed Time
The Watch It! Elapsed Time Clock features two analog wristwatches with correlating digital clocks underneath.  Move the miute hand on the first watch to your desired start time and the minute hand on the second watch to your finished time.  The digital clocks underneath will automatically adjust!  Then, simply push the button on the stopwatch to reveal the elapsed time or keep it closed to quiz guessing students.
The Watch It! Elapsed Time Clock was invented by Nancy Balter, a 7th and 8th grade math and science teacher.  She started with one of her favorite childhood toys, a geared clock, and took it one step further...to teach elapsed time.  There are so many educational activities possible with the Watch It! Elapsed Time Clock and all of them begin and end in fun!  For instance, check out these high quality teaching methods:
Calculating Elapsed Time - Difference Between Two Times
Pose an elapsed time problem...for example, "The birthday party started at 2 pm and ended at 5 pm.  How long was the party?"
Adding Time - What Time Will It Be?
Pose a question such as, "It's 7:45 am right now.  It takes 15 minutes for Eric to walk to school.  If Eric leaves now, what time will he arrive at school?"
Subtracting Time - What Time Did the Event Start?
Pose a question such as, "The party ended at 3:00 pm.  It lasted 4 hours.  What time did the party begin?"
Telling Time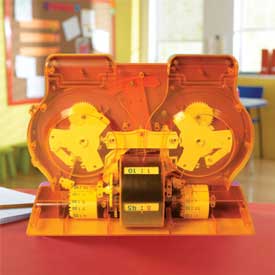 You can also use the Watch It! Elapsed Time Clock to practice the simple telling of time on an analog watch.  Since there is a digital display immediately underneath both clocks, children can practice this skill easily and check their own answers right away.
I loved the Watch It! Elapsed Time Clock and think it's an excellent teaching tool for either the classroom, home school or play room.  The large, easy-to-manipulate clock faces definitely draw children in and capture their attention.  This clock is simple to use, yet teaches difficult concepts in a fun and interesting way.  I especially liked the open-faced back side of this tool which shows the inner gears at work!
If you are a teacher or parent who's looking to introduce the concept of elapsed time to younger learners, then be sure to give the Watch It! Elapsed Time Clock from Educational Insights a try.  They'll rocket to the head of the class in no "time!"
Disclosure: I received the Watch It! Elapsed Time Clock from Educational Insights in order to facilitate my review. No other compensation was received. This product review is based on my own personal experiences with this item and is completely honest and objective.
I'm a former 7th grade Science teacher turned stay-at-home mom that lives in Houston, Texas. I am married to my college sweetheart and have a beautiful daughter named Riley, who definitely keeps me on my toes! I am also involved in starting a small business which would both manufacture and sell an invention that I've patented, called Toothpaste 2 Go. I love interacting with my readers and hope to learn as much about you as you learn about me!
Melissa @ Mommy Living the Life of Riley!