If you've been reading my blog for any length of time, then I'm sure you've read about my complete love of jewelry.  Jewelry has always been one of my favorite items to shop for because wearing jewelry can make you look terrific as well as be an instant conversation starter all at the same time!
I've always been drawn to unique jewelry because I love to make a statement and I've recently discovered a very original line of handcrafted jewelry from Wendell August Forge, called UpCycled Bliss.  They were generous enough to allow me to review three pieces from this collection.  Keep reading to learn more!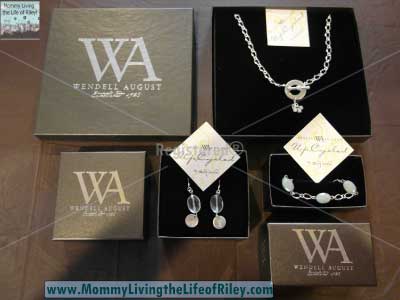 Wendell August Forge is America's oldest and largest forge, producing hand-wrought ornamental metalware and elegant giftware in aluminum and other metals since 1923.  The heritage art of Wendell August Forge is preserved by the company's artisans and craftsmen, who use the original eight-step process to produce every heirloom piece in aluminum, bronze, pewter, sterling silver, and other metals.  Today, Wendell August Forge maintains the same painstaking dedication to heritage and history…to artistry and craftsmanship…to quality American made products…that propelled Wendell August to first open his forge in 1923.
Wendell August Forge designer Emily Hendrie created the UpCycled Bliss jewelry collection and their look.  The stones used to make the pieces of this collection are translucent faceted amazonite stones.  The aluminum pieces were each individually formed with a specially designed hammer with ball bearings welded to its face.  The UpCycled Bliss jewelry from Wendell August Forge is a wonderful mix of traditional and classic, with eye-catching beauty.
I absolutely loved the three pieces of UpCycled Bliss jewelry I received from Wendell August Forge.  The dangle earrings were very casual and subtle, yet definitely grabbed your attention.  The same can be said for the bracelet and necklace too.  I was thrilled to see that Emilie Hendrie designed these pieces to use toggle closures, for I've always thought that toggles were the most gorgeous way to secure a bracelet or necklace.
The 18" length of the toggle necklace with beads was just the right length and the cluster of three amazonite beads dangling from the toggle itself made for a very interesting focal point.  I did find it a little strange that the WA and the high heel shoe logos were upside down on the aluminum ring of this necklace, but since the bar covers these designs up for the most part, it's not too noticeable.
The toggle bracelet was my favorite piece of the UpCycled Bliss collection, for I loved the three faceted amazonite stones looked as well as the toggle closure.  I noticed on this aluminum ring that the WA and high heel shoe logos were both on the same side of the disc as well as half cut-off, so perhaps these logos are supposed to appear more randomly on the jewelry itself.
Finally, I must admit that the UpCycled Bliss dangle earrings were my least favorite piece, only because the amazonite stones I received were completely clear and very light blue.  This ordinarily wouldn't have been a problem, but I liked the translucent nature of the amazonite and because the stones in the earrings were completely transparent instead, you could see the threading of the earring inside the stones.  Other than that, these earrings were gorgeous and I loved their overall design.
STAY IN TOUCH: Want to be in the loop? You can also check out Wendell August Forge on the following sites:
Wendell August Forge
I've had the opportunity to wear the Wendell August Forge UpCycled Bliss jewelry collection out two times since receiving it and I've received numerous compliments both times!  If you are looking for a classic collection which is both versatile and beautiful, then look no further than the handcrafted UpCycled Bliss selection of jewelry from Wendell August Forge.  It's unique styling and delicate good looks will have you noticed in no time!
Disclosure: I received the UpCycled Bliss Toggle Necklace with Beads, Toggle Bracelet and Dangle Earrings from Wendell August Forge in order to facilitate my review. No other compensation was received. This product review is based on my own personal experiences with this item and is completely honest and objective.
I'm a former 7th grade Science teacher turned stay-at-home mom that lives in Houston, Texas. I am married to my college sweetheart and have a beautiful daughter named Riley, who definitely keeps me on my toes! I am also involved in starting a small business which would both manufacture and sell an invention that I've patented, called Toothpaste 2 Go. I love interacting with my readers and hope to learn as much about you as you learn about me!
Melissa @ Mommy Living the Life of Riley!