About 10 years ago, I was single and my finances were tight.  In an effort to stretch my dollars a little further, I scrutinized every single monthly expense I had and found one easy way to save a lot of money...ditch my landline phone!  I've never looked back and have since relied on my cell phone for 100% of my communication needs.
There are a few downsides though to being in a household with no landline and I've always secretly wished that I could have clearer calls in my home, better reception and more handsets so that I don't have to dash around my house in search of one phone whenever it rings.  VTech seems to have answered my prayers with the Three Handset Connect to CELL Answering System.  I recently had a chance to integrate this system with my current cell phone.  Keep reading to learn more!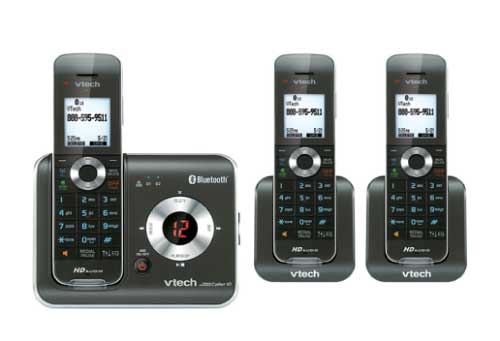 The VTech Connect to CELL (DS6421-3) phone system merges cellular and landline technology together at last.  It comes with three handsets, Connect to Cell technology, a digital answering system and handset speakerphones.  With Connect to Cell, you can make and receive cell phone calls from the comfort of your VTech cordless handset.  No more mad dashes for the misplaced cell phone at home.  DECT 6.0 Digital technology delivers long range and also prevents wireless networks and other electronic devices from interfering with conversations.
Thanks to HD Audio, you'll enjoy fuller and clearer sound too.  Digital security ensures your calls are digitized and encrypted, making it nearly impossible for someone to eavesdrop.  Plus, Push-to-Talk intercom, call-transfer and conference capabilities streamline in-home communication, eliminating disruptive shouting through the home.  With 14 minutes of recording time, the digital answering system answers calls when you can't.
I couldn't be more thrilled with the VTech Connect to CELL phone system, for it was super easy to pair with my existing cell phone line.  If you know how to pair your cell phone via Bluetooth technology, then setting up the VTech Connect to CELL system in your home will be a cinch.  The main base unit must be within 10-15 feet of your cell phone for proper connectivity to take place, but now, I am able to leave my cell phone on its charger and still be able to answer the phone using one of the three handsets from the Connect to CELL system.
Since we have a two-story home and both of our cell phones would always charge downstairs, my husband and I hated not having a way to be reached or to make a call while we were sleeping upstairs.  What if an emergency happened in the middle of the night to one of our friends or family and they tried to call our cell phone?  Chances are, we would never hear the call.  Or, what if someone broke into our home in the middle of the night and we needed to call 9-1-1 for help?
Nope, with our cell phones downstairs, that was impossible too.  I feel much better now with the VTech Connect to CELL handset on my bedside nightstand.  Now, we can make a call whether upstairs or downstairs, from three additional handsets in our home.
I also love how easy it is to store my complete cell phone contact list into the VTech handsets.  The VTech Connect to CELL phone system can hold up to 6,000 entries so that you can have the same ease in making calls as you do from your cell phone.  The Push-to-Talk intercom feature is definitely one of my favorites, since it stops my husband and I from yelling back and forth across the house at each other.
As long as we are within arms' reach of a VTech Connect to CELL handset, we can have a civilized conversation from two different rooms in the house, without screaming.
Since the holidays are the time for reconnecting with family and friends, you may find yourself making many more phone calls than usual during this time of year.  Make those calls in comfort, style and convenience with the VTech Connect to CELL phone system.  This innovative answering system is just the product I've been wishing for all along.  I guess this year, Santa came early!
Disclosure: I wrote this review while participating in a campaign by Mom Central Consulting on behalf of VTech and received a product sample to facilitate my review.
I'm a former 7th grade Science teacher turned stay-at-home mom that lives in Houston, Texas. I am married to my college sweetheart and have a beautiful daughter named Riley, who definitely keeps me on my toes! I am also involved in starting a small business which would both manufacture and sell an invention that I've patented, called Toothpaste 2 Go. I love interacting with my readers and hope to learn as much about you as you learn about me!
Melissa @ Mommy Living the Life of Riley!