When you're young, that fresh youthful glow stays with you no matter what.  Didn't get enough sleep last night, drank too much or have a poor diet?  No worries!  The bloom of youth hides everything!  :awe:
Unfortunately, as we age, just the opposite is true.  EVERYTHING we do shows up on our faces, making us look old and tired.  All of the time spent out in the sun, staying up late, being stressed out and eating poorly begin to add up and wreak havoc on our skin.  Recapturing our youthful glow is next to impossible then...or is it?
Younger Looking Skin Awaits with Osmotics Blue Copper 5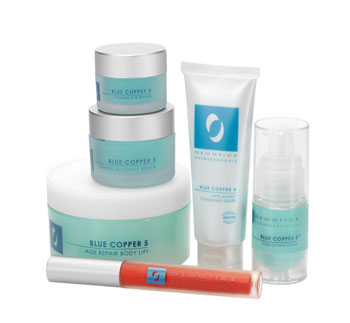 Osmotics has a line of amazing anti-aging skin care products called Blue Copper 5.  These award-winning products are based on a clinically proven copper peptide technology developed and used extensively in the field of wound care. Copper, an essential mineral for skin health, combined with our collagen boosting 5-chain peptide work together at a cellular level to fortify the skin against visible signs of aging.
I had the opportunity to review one of the most powerful products in this anti-aging arsenal: the 7-Night Molecular Repair Treatment.  This seven-night treatment combines the anti-aging benefits of copper with a proprietary extract that triggers the natural repair process of the skin.  This soothing, restorative serum reduces redness and irritation from exposure to dry, harsh climatic conditions and from aggressive dermal procedures, such as microdermabrasion, lasers and peels.
It's an absolute must for anyone facing changes in climate, stress level, hormones, or overall environment.  In just one week, you can experience a healthier, radiant, younger looking skin.
What results will I see?
Visibly increases elasticity, firmness and tone.
Reduces redness, fatigue, and stress for healthier, ageless skin.
Softens fine lines and wrinkles, and improves overall texture and tone.
Intensive recover/repair for all skin types.
Who is it for?
Perfect for all skin types and an absolute MUST for:
Anyone wanting softer, smoother skin with enhanced hydration, firmness, dermal elasticity, and a reduction in fine lines and wrinkles.
Preparing skin for a new climate or season.
Repairing/Soothing skin after aggressive dermal procedures.
Anytime skin is irritated or sensitized by environmental, stress or hormonal changes.
I was really surprised that in just 7 short days, my skin looked so much fresher and more revitalized.  Fine lines were definitely diminished and the overall brightness of my skin was something noticed by even my friends and family.  Now that I see just what can be done by the 7-Night Molecular Repair Treatment, I would like to be able to incorporate this intensive treatment into my skin care regimen on a regular basis.  If you give the Blue Copper 5 series of products a try, I'm sure you'll notice just what healing effects copper peptide technology can bring too!
Disclosure: I received the Blue Copper 5 7-Night Molecular Repair Treatment from Osmotics in order to facilitate my review. No other compensation was received. This product review is based on my own personal experiences with this item and is completely honest and objective.
I'm a former 7th grade Science teacher turned stay-at-home mom that lives in Houston, Texas. I am married to my college sweetheart and have a beautiful daughter named Riley, who definitely keeps me on my toes! I am also involved in starting a small business which would both manufacture and sell an invention that I've patented, called Toothpaste 2 Go. I love interacting with my readers and hope to learn as much about you as you learn about me!
Melissa @ Mommy Living the Life of Riley!