I have to come clean right now and admit that I'm a total Science geek!  I love anything and everything Science related and fortunately, my daughter seems to be following in my footsteps.  To this day, when I read the ingredients in a tube of toothpaste or box of cereal, I try to remember back to my days of organic chemistry in order to visualize what the chemical makeup of that ingredient looks like.  :geek:
In Science, models are essential and an indispensable tool for discovery.  So when I learned that Nobel Prize-winning scientists have used Zometool, a children's building toy, to further their own investigations, I just had to see this amazing toy for myself.  Keep reading to learn more about a brainy gift giving idea for your budding scientist or engineer.
I reviewed the
Creator 1 System Kit
from Zometool which retails for $59.00, but is currently on sale for $58.99 with FREE SHIPPING.
Zometool Blurs the Line Between Art, Science and Play
Zometool is a toy for kids of all ages that could truly spark the genesis of the next Nobel Prize winner.  In fact, many great scientists have already tinkered with these smart building kits.  Zometool consists of sticks and balls which connect to create a wide universe of shapes so versatile that kids are absorbed for hours.  This toy is also so unique that it is sought after by world-leading scientists.
For kids that may be intrigued by science, architecture, art or engineering, in fact, anyone on that holiday list who likes to ponder with hands-on engagement, six friendly but profound kits are recommended.  All sets are made to high quality standards in the company's wind powered Longmont, Colorado factory.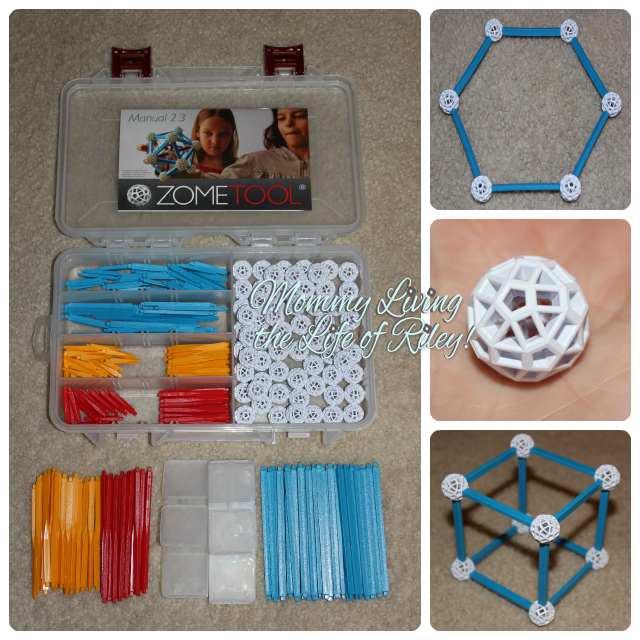 Not to brag, but Zometool has been used by some of the smartest people in the world from NASA scientists to Nobel Prize winners. The same balls and primary color struts placed in the hands of middle schoolers have been known to open up a new world of 3D thinking. Educators, parents, scientists, artists and college grads enjoy playing with the building pieces as much as the 6 to 16 year-olds.
Amazing Facts About Zometool:
Zometool has been used by the Jonas Salk Institute in their research for a cure for AIDS.
Dan Shechtman, the 2011 Nobel Prize winner in Chemistry, used Zometool as did 2-time Nobel Laureate Linus Pauling during their debate over whether quasicrystals were real.
Physicist Garret Lisi used Zometool to illustrate the complex 8-dimensional structure underpinning his theory that combines particle physics with Einstein's theory of gravitation.
So what did this self-proclaimed Science geek think of the Zometool toy?  Honestly, I found it quite addictive, yet quite challenging at the same time.  Because the yellow, blue and red sticks all have different shaped ends (rectangle, triangle and pentagon), they can only fit in very specific places on the white ball.  This made creating certain shapes particularly difficult...or challenging, depending on how you want to look at it.
Personally, I think the wonder of creating a model of the specific object you've imagined is the fun part, but then trying to figure out exactly which piece to align in what part of the white ball mostly distracts from your vision.  There's no doubt though that this is one mind-bending toy fueled only by your child's limitless imagination.  If you're looking for an affordable toy which your child will never outgrow and that also stretches the boundaries of their imagination, then be sure to enter the wonderful world of Zometool!
Disclosure: I received the Creator 1 System Kit from Zometool in order to facilitate my review. No other compensation was received. This product review is based on my own personal experiences with this item and is completely honest and objective.
I'm a former 7th grade Science teacher turned stay-at-home mom that lives in Houston, Texas. I am married to my college sweetheart and have a beautiful daughter named Riley, who definitely keeps me on my toes! I am also involved in starting a small business which would both manufacture and sell an invention that I've patented, called Toothpaste 2 Go. I love interacting with my readers and hope to learn as much about you as you learn about me!
Melissa @ Mommy Living the Life of Riley!