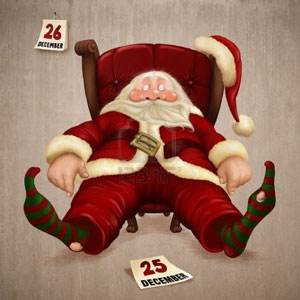 For weeks the holiday season builds to a fever pitch, culminating in a massive day of giving, feasting and, hopefully, relaxing. After Christmas has come and gone, many of us feel a need to fill the void that was once occupied by festive music and twinkling lights.
With the National Retail Federation projecting average holiday spending at $749.51 per person, many of us will need to be cost-conscious about our post-holiday plans. If you're already feeling the strain, you can learn a thing or two from fellow frugal consumers who know how to maximize the post-Christmas time.
Here are several things I recommend doing right after Christmas.
1. Self-Gift
Thanks to a constant bombardment of commercials and special sales, it's hard to resist the temptation to self-gift. However, jumping the gun can leave you with duplicate presents you don't have the ability to return. You can always keep them around to re-gift next year, but a better option is to wait until after Christmas to buy for yourself. You never know what will show up under the tree, keeping more cash in your pocket.
2. Cash Out
Do you still have gift cards that haven't seen the light of day since you opened them last year? If well-intentioned relatives load you up with cards you can't put to good use, exchange them for cash and get what you really want. Gift Card Exchange Day is Dec. 26, and helps you find the buyer who will pay the most. This is the prime time to sell gift cards as resale sites desperately need to replenish their depleted inventory.
3. Review Return Policies
They say it's the thought that counts, but some gifts just don't work out. Whether it's a sweater in the wrong size or an age-inappropriate video game, there's bound to be something going back to the store. It's best to act fast on post-Christmas returns, since the window of opportunity can be as small as two weeks. Though return policies often change around the holidays, this cheat sheet covers the basics for big retailers.
4. Stock Up on Holiday Essentials
This may seem counter-intuitive, but the week following Christmas is the best time to do all your holiday shopping. From huge markdowns on wrapping paper to Christmas tree lights and nutcracker statues, you can load up on all your holiday decor needs at up to 75-percent off. You may even consider socking away some pretty ornaments to give as gifts come next season. Head over to the local drugstore or bog-box retailer like Target to score big savings on essentials.
5. Drop Off Donations
There's no reason the spirit of giving needs to disappear after Dec. 25. The last week of the year provides a final opportunity to get your tax-deductible donations together. With a certain amount of uncertainty surrounding the upcoming tax season, it's best to have all of your ducks in a row. Take the opportunity to comb through closets and clear out clutter in the garage while it can still save you money. To make sure your deductions are on the up-and-up, check out these guidelines from the IRS.
6. Store and Save
Ripping open wrapping paper has become a common practice, but take note of the older generation. Many of them will carefully peel back tape and neatly fold the paper when they're done. Gift bags and gift boxes shouldn't go in the trash, but rather be saved for future use. While this sort of frugality is fading away, saving reusable gift-wrapping supplies is a simple way to save money in the long run.
7. Turn Greeting Cards into Postcards
You likely received a bundle of holiday greeting cards over the past several weeks and proudly displayed them in your home. Now that the holidays have passed, you might feel compelled to toss them out. However, these cards can be recycled with a little creativity. Cut out the decorative element of the card and use them as part of holiday postcards next year or as tags on presents.
8. Checking it Twice
By the time Dec. 26 rolls around, odds are your credit card has been put to good use. More purchases are made with credit cards in December than any other month, and in 2011 shoppers totaled more than $581 billion in debt during December alone. With so much spending, due diligence is worth it. Check your online statements for any transaction errors and track your reward points. You may have racked up enough points for reward travel or for various gift cards.
Andrea Woroch is a nationally-recognized consumer and money-saving expert who helps consumers live on less without radically changing their lifestyles. From smart spending tips to personal finance advice, Andrea transforms everyday consumers into savvy shoppers. 
I'm a former 7th grade Science teacher turned stay-at-home mom that lives in Houston, Texas. I am married to my college sweetheart and have a beautiful daughter named Riley, who definitely keeps me on my toes! I am also involved in starting a small business which would both manufacture and sell an invention that I've patented, called Toothpaste 2 Go. I love interacting with my readers and hope to learn as much about you as you learn about me!
Melissa @ Mommy Living the Life of Riley!