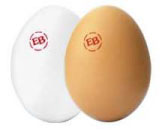 In our household, Sunday morning is a time when my husband and I band together and cook a real breakfast with all the trimmings...pancakes, toast, bacon and of course, eggs!  On weekday mornings, we are normally in such a rush with getting off to work and starting our day that we only have time for a quick cup of coffee and maybe a granola bar, so the Sunday morning splurge breakfast is something we both really enjoy.
I have recently been chosen by Eggland's Best Eggs to host a brunch for my family and friends and I'm super excited.  Of course, this means that I need to bone up on my egg preparing skills in advance so that I can do the eggs themselves justice!  Eggland's Best was nice enough to supply me with several tips on how to cook a perfect egg and I thought that since tomorrow morning you might be cooking eggs for your family's breakfast too, maybe you would enjoy learning these same tips right along with me:
Scrambled Eggs ~
In a medium bowl, beat 3 eggs with 1 tablespoon of water until frothy.  Meanwhile, in a small skillet, melt 1 teaspoon butter over medium heat.  Add the eggs to the skillet and cook just until they begin to set around the edges of the pan.  With a wooden spoon or a rubber spatula, scramble the mixture until the eggs are cooked soft and fluffy and no longer runny.
Fried "Sunnyside Up" Eggs ~
Coat a skillet with nonstick cooking spray or melt 1 teaspoon of butter per egg in a skillet over medium heat.  Crack eggs into the heated skillet and cook for 4 to 5 minutes or until cooked to the desired doneness and the egg whites are set and the yolk begins to harden.
Over-Easy Eggs ~
Coat a skillet with nonstick cooking spray or melt 1 teaspoon of butter per egg in a skillet over medium heat.  Crack eggs into the heated skillet and cook for about 3 minutes.  Carefully flip the eggs with a spatula and cook for 1 or 2 minutes more or until cooked to desired doneness.
Hard-Cooked Eggs ~
Bring eggs to room temperature then place the eggs in room temperature water; bring to a boil then turn down to a low boil for 12 minutes.  Quickly chill the eggs in ice cold water before peeling.
Poached Eggs ~
In a saucepan or deep omelet pan, bring 1-3 inches of water to a boil.  Reduce the heat to keep the water gently simmering.  Break cold eggs, one at a time, into a custard cup or bowl.  Holding the dish close to the water's surface, slip the eggs one by one into the water.  Cook the eggs until the whites are completely set and the yolks begin to thicken but are not hard, approximately 3-5 minutes.  With a slotted spoon, lift out the eggs.  Drain.
*Note: Adding a teaspoon of white vinegar to the water will help keep the egg whites together.
Omelet ~
Heat a 10-inch, non-stick skillet over high or medium-high heat.  Beat 2 eggs with 2 tablespoons of water and a pinch of salt until smooth in consistency.  As soon as the butter in the skillet is melted, add egg mixture.  The mixture should begin setting immediately.  With an inverted pancake turner or spatula, move the eggs from the center of the skillet to the edge so uncooked portions can reach the skillet's hot surface.  Tilt the pan and move it as necessary to keep the entire skillet surface covered in egg mixture.  Pour 1/2 cup of desired mixture (cheese, meat, peppers, etc.) onto the omelet.  With a spatula, fold the omelet in half.  Invert onto plate.
Disclosure:  I received an Eggland's Best "Brunch in a Box" for hosting a Blogger Brunch on March 26th, 2011.  These tips are being posted solely at my own discretion.  I haven't received any compensation whatsoever for posting this information.
I'm a former 7th grade Science teacher turned stay-at-home mom that lives in Houston, Texas. I am married to my college sweetheart and have a beautiful daughter named Riley, who definitely keeps me on my toes! I am also involved in starting a small business which would both manufacture and sell an invention that I've patented, called Toothpaste 2 Go. I love interacting with my readers and hope to learn as much about you as you learn about me!
Melissa @ Mommy Living the Life of Riley!