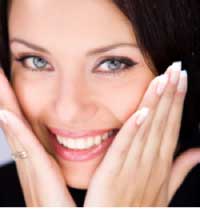 We've all heard the saying, "You are what you eat," and it couldn't be more true when it comes to your skin. A nutrient-filled diet based in whole foods directly translates into clear, healthy skin.
Here is his list of the top 15 nutrients needed for healthy skin and a more youthful appearance:
Olive fruit extract. This extract helps protect the skin from free radicals and the oxidative damage associated with aging, as well as improves the overall health and beauty of skin.
Kiwi seed extract. Studies have shown that kiwi seed extract improves radiance, reduces the appearance of fine lines and dark circles, and improves skin moisture.
Kudzu extract. This is an ancient Chinese and Japanese vine extract that helps support collagen production and the skin's natural support structure, improving skin tone and firmness.
Astaxanthin. Astaxanthin is a naturally-occurring carotenoid pigment responsible for the characteristic pink color of salmon and it packs a powerful antioxidant punch, helping protect the skin from the free-radical damage associated with aging.
Tocotrienols. Tocotrienols are a specific form of vitamin E with potent antioxidant properties. A combination of tocotrienols and astaxanthin has been reported to reduce the appearance of fine wrinkles and discolorations while smoothing and moisturizing the skin.
Lutein. Lutein is found naturally in spinach and is important for good eye health. In addition to its role in vision support, recent studies suggest that the antioxidant properties of lutein may support healthy skin lipids and increase hydration in the skin.
Biotin. Biotin is a member of the B-vitamin family. Research has indicated that nail strength and quality are improved by taking 2.5 milligrams per day.
Hyaluronic acid. In essence, hyaluronic acid is one if the skin's premier moisturizers, as it holds water in the intracellular matrix of dermal connective tissue and contributes to the skin's elasticity.
Green tea extract. Green tea is a source of polyphenols known as flavonoids, the predominate flavonoid being catechins. Catechins are strong antioxidants that promote overall health and protect against free radical damage to the skin.
Lycopene. Lycopene is a red plant pigment found primarily in tomatoes and it possesses impressive antioxidant properties. Lycopene has been shown to improve skin color and radiance, and reduce the skin's sensitivity to sunlight.
Alpha lipoic acid. Alpha lipoic acid is the universal antioxidant, working with both the fat- and water-soluble parts of cells. The antioxidant properties of alpha lipoic acid have been reported to help reduce signs of skin photoaging.
Calcium. The mineral calcium is key to the health and strength of all of your bones, including your facial bones. A recent study by the American Society of Plastic Surgeons found that shrinking facial bones is a significant contributor to facial aging, since these bone shifts often leave empty spaces in the face, which accentuate drooping skin and wrinkles.

Vitamin C.

In addition to its antioxidant properties, which have been reported to protect the skin from free-radical damage, vitamin C is critical for normal collagen production and the skin's natural support structure.
Rosemary. Rosemary contains active plant compounds like ursolic acid and carnosic acid that have powerful antioxidant and anti-inflammatory properties. Rosemary can help keep your skin looking vibrant by supporting cell membrane health.
Vitamin D. Many of us have insufficient levels of this important vitamin. Vitamin D has been reported to protect the skin from sun damage and reduce the appearance of wrinkles.
These "beauty whole foods" are a great start to reclaiming the skin you're in!
I'm a former 7th grade Science teacher turned stay-at-home mom that lives in Houston, Texas. I am married to my college sweetheart and have a beautiful daughter named Riley, who definitely keeps me on my toes! I am also involved in starting a small business which would both manufacture and sell an invention that I've patented, called Toothpaste 2 Go. I love interacting with my readers and hope to learn as much about you as you learn about me!
Melissa @ Mommy Living the Life of Riley!