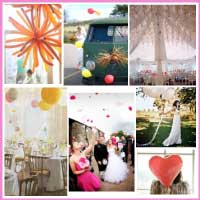 Not sure what brides are really thinking?  This year's sixth-annual "What's on Brides' Minds" survey from David's Bridal reveals what's really in store for 2012 as brides everywhere gear up for the biggest day of their lives. From uncovering what brides are planning, choosing and even now sharing, this year's results may surprise you.
While brides still know best and are sticking to their budgets, the 2012 survey uncovers new trends that are beginning to take shape, such as sharing resources—with more than a third of brides open to hopping on-board. It also shows that when it comes to planning, brides will trust their significant other over their closest friends and family -- including their mothers!
Plus, brides feel finding the one (the dress that is) may be harder than it looks, with 47% of brides saying their wedding dress is nothing like what they pictured when they were young.
"The New Year is always packed with bridal activity due to engagements happening over the holidays," said Brian Beitler, Chief Marketing Officer for David's Bridal. "This year's survey highlights what brides everywhere are thinking as they prepare to say, 'I do' in 2012. As the nation's leading bridal retailer, David's Bridal continues to provide brides-to-be with the best in choice, value and convenience when making their wedding day dreams come true."
Brides Do It Better
While planning a wedding, brides think they know best from the date to the venue, but are now open to sharing resources.
The Secret of Sharing: Despite the benefits of sharing secrets, just over a third (37%) of brides have considered sharing resources, and only 10% have actually shared resources.
A New Trend of Sharing:Of the brides catching onto the trend of sharing, the top items they share with other brides are:

Decorations (63%)
Clothing and accessories (50%)
Coveted planning tools (38%)

Who Brides are Trusting: The person most brides would trust in helping plan their weddings is the man they're planning to walk down the aisle to: their significant other (56%), followed by their mother (52%) and their best friend (50%).
It's all in the Date: 43% of brides would consider planning their wedding on a special date such as 10-11-12 or 12-12-12.
Finding "The One" is Harder than it Looks (The Dress, Not the Groom)
The dress is the perfect expression of a bride's personal style and finding the right one (or two) is harder than it looks.
Childhood Dreams Aren't Forever: Women's style changes over time and tastes change. For nearly half of brides (47%), their wedding dress is nothing like what they pictured when they were young.
Do Moms Know Best? More than half of brides (56%) say that if their mother thought their wedding dress was inappropriate, they would stick to their guns and not choose a different style.
The Two-Dress Trend: For the last two years, more than a third of brides (38% in 2011, 36% in 2010) have considered buying a second dress to wear for the wedding reception.
The Tale of the Veil
The tradition of wearing a veil has been around for quite some time and this year brides-to-be have not forgotten it.
Tried & True Traditions: More than 3 in every 4 (83%) engaged women plan to wear a veil in their wedding.
Holding onto Memories: More than half of engaged women (63%) planning to sport a veil will save their wispy white headpiece as a keepsake after the wedding.
Wedding Cost Concerns Shift
Brides are still cutting back due to economic concerns, but are also being selective on the areas where they are pinching pennies.
Brides are Still Cutting Back: Over half of the brides (53%) cut their budgets in 2011, which is similar to the (54%) of brides that also cut back in 2010.
Spending Cuts Shift: While brides continue to cut back, they are less likely to cut spending on reception essentials including:

Venue (22% in 2011, 57% in 2010)
Decor (47% in 2011, 59% in 2010)
Alcohol (27% in 2011, 44% in 2010)
I'm a former 7th grade Science teacher turned stay-at-home mom that lives in Houston, Texas. I am married to my college sweetheart and have a beautiful daughter named Riley, who definitely keeps me on my toes! I am also involved in starting a small business which would both manufacture and sell an invention that I've patented, called Toothpaste 2 Go. I love interacting with my readers and hope to learn as much about you as you learn about me!
Melissa @ Mommy Living the Life of Riley!