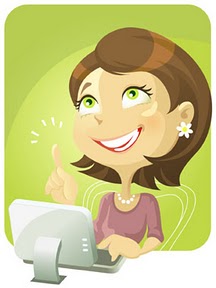 Greetings everyone!  I hope you're having a great week so far.  I wanted to write this post because I decided to take this blog in a little different direction.  Actually, a few days out of every week, I am going to be dedicating myself to helping those of you out there do a little better in this tough economy, by sharing some tips that I have found to be EXTREMELY FRUITFUL!
I want to turn you on to a way to stretch your dollar and possibly bring some excitement and luxuries into your life that you might not otherwise be able to afford.  So, what the heck am I talking about?  Not a get rich scheme, no pyramid scams, but online SWEEPSTAKES and CONTESTS!  That's right!
Read on, to hear all about how sweepstakes and contests on the internet have helped my family out TREMENDOUSLY since I quit my job as a Science teacher and became a stay-at-home mom to our first child, Riley.
My motive was simple enough.  I wanted to be able to quit my job when I had my first child, so that I could raise her myself.  Now, my husband and I were very unsure of how we could make ends meet if I quit my job, but we both agreed that raising Riley at home was a top priority.  When I quit, my own personal goal was to stretch our family budget as far as it would go.  I tried everything including clipping coupons, sending away for freebies and rebates, cooking every meal instead of eating out, etc.
I even tried a few "work at home" opportunities, but frankly, I found most of these to be either scams or not worth my time.  I even tried the survey racket and although I hear how many people make a lot of money doing those, it never seemed to work out for me.  It wasn't until I discovered sweepstakes, that I actually found something I liked doing and was worthwhile, monetarily.
So, I'm sure your next question at this point is...how did you do?  I don't want to brag, but basically in a 7-month time frame, I actually made MORE money than I did as a Science teacher in a YEAR!  I won some awesome trips and every kind of cool electronic device out there.  I won a bunch of cash and even won a 50" Plasma TV that I was able to give to my parents for Christmas!  This is why I highly recommend entering sweepstakes on the internet.
To aid in this endeavor and because I hope to be hosting a ton of reviews and giveaways of my own here at Mommy Living the Life of Riley, I decided to post some of my "top picks" at least twice a week.  If this becomes a feature that my readers really enjoy, I might begin posting these picks even more frequently.  For now though, start checking back here regularly for "Winning It Wednesdays" and "Super Sweepstakes Saturday/Sunday".
Okay, now if you're a skeptic like me (and hooray if you are!), you're probably thinking that there has to be a catch...this is just too good to be true and you're right, there is!  SWEEPSTAKES TAKES A LOT OF HARD WORK and a little luck too! There, I said it.  Nobody has the kind of winnings I had by entering a few sweepstakes every now and then.  But, that's also what's great about it.  Even if you only enter a few sweepstakes a day, you have the potential to win.
But, I'm a little on the obsessive side sometimes and being a stay-at-home mom put me a LOT on the BORED side sometimes and so I basically turned entering sweepstakes into a full-time job.  I ENTERED SWEEPSTAKES ABOUT 8-10 HOURS PER DAY, EVERYDAY! The great thing was, they were MY hours on MY schedule and I could stop at any time for any reason.  Believe me, you don't have to do what I did.  I know many people out there who only do this for about an hour or so per day and still make several thousand dollars a year from this hobby.
I'll admit, I've scaled WAY back on how much I enter sweepstakes now.  This turnabout happened for many reasons.  First, I seemed to have a lot more free time when Riley was a baby and wasn't as active.  As a toddler, she's a continuous ball of energy and I'm her official 24-hour playmate (which I love being).  Also, my husband and I have begun a business, MCM Inventions, Inc., whereby we are trying to manufacture and sell an invention we've patented, called Toothpaste 2 Go.  I've found that starting your own business takes up A HUGE AMOUNT OF TIME!  Finally, I've discovered blogging and I'd really like to try my hand at doing product reviews and giveaways here permanently.  But, that's what's great about this hobby, you can do as much or as little as you have time for.
Okay, so there's my introduction to entering sweepstakes!  What do you think so far?  Is this something you'd be interested in learning more about?  If so, please leave me some comment love and let me know.  Stay tuned for an upcoming post whereby I will get into the "nitty gritty" of entering sweepstakes and tell you all about the different kinds, what you want to look for when you enter, getting into a daily routine, etc.   Also, remember to stop by on Saturdays, Sundays and Wednesdays for some of my favorite sweepstakes picks!  Stay tuned and GOOD LUCK!
I'm a former 7th grade Science teacher turned stay-at-home mom that lives in Houston, Texas. I am married to my college sweetheart and have a beautiful daughter named Riley, who definitely keeps me on my toes! I am also involved in starting a small business which would both manufacture and sell an invention that I've patented, called Toothpaste 2 Go. I love interacting with my readers and hope to learn as much about you as you learn about me!
Melissa @ Mommy Living the Life of Riley!