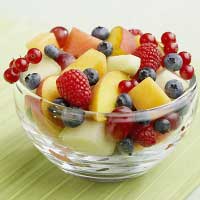 One of the hardest things for a busy family to preserve is healthy eating habits. From fast food to vending machines, nutritious diets fall to the wayside as schedules get busier and fuller. Instead of heading for the drive-thru window, stock up on healthy snacks and make the most of your left-overs.
Finger Foods
Granola bars, fruit, raw vegetables and yogurts are some of the healthiest, on-the-go snacks you can eat. Low-calorie, low-fat and very tasty, these snack foods sate hunger and satisfy the pallet. If you do head out for lunch or stop en route for a quick bite, try smaller delis or health food stores instead of ordering greasy fries and a burger.

Left-Overs
If you know that your family and you have a busy week ahead, plan for lots of packed lunches. There's nothing whatsoever in cooking an extra serving or two a few times each week and using the left-overs as healthy meals when you can't get home or to avoid going to a restaurant.

Extra pasta cooked and packed in individual containers in the refrigerator can make a good lunch. Add a touch of feta, Parmesan or mozzarella cheese, cucumbers and a hint of olive oil the day you take the pasta with you, and you have a great pasta salad ready and waiting when you're ready.

Chicken tastes great hot or cold. Remove the skin to reduce the fat content—and any excess grease from having fried it—and enjoy your own low-calorie, high-protein snack or meal.

Meatloaf, veggies, hard-boiled or deviled eggs all make great snack foods or meals that are nutritious and tasty.

Fresh vegetables are healthier than processed vegetables, and spending a few extra minutes on the weekend is all it takes to prepare a week's worth of nutritious snacks for those with busy schedules.
Additional Low-Cost Options
Soups are terrific and healthy. Low-sodium soups taste just a good as "normal" soups and are far healthier for everyone. They're easy to pack: Simply store them with water, if required, or without water, if ready mixed, and keep them in well-sealed containers. Heat for a few minutes in a microwave, stir, reseal and heat for another minute or two, and you have hot, low-calorie meal in moments.

Fresh fruit, especially in the mornings or early afternoons, make fantastic and healthy snacks. Don't have a lot of it at night when your metabolism slows naturally, though. The fructose in fruits, if not digested and used by the body, turns into glucose, and glucose turns into stored fat. Use the natural energy boost during the day when your body needs it. Your taste buds will jump for joy at the flavorful snack. A few slices of apple, citrus or other fruit can be all your body needs to reset itself and allow you to concentrate better, walk that extra mile and buoy your spirits.

This post's author is Holly Miller, a writer for Coupon Croc. Shopping with time and budget restraints? Use Argos discounts and save when you shop online for the whole family.
I'm a former 7th grade Science teacher turned stay-at-home mom that lives in Houston, Texas. I am married to my college sweetheart and have a beautiful daughter named Riley, who definitely keeps me on my toes! I am also involved in starting a small business which would both manufacture and sell an invention that I've patented, called Toothpaste 2 Go. I love interacting with my readers and hope to learn as much about you as you learn about me!
Melissa @ Mommy Living the Life of Riley!