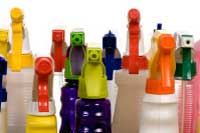 Pregnant women are trying to be healthier.  Many take all the right steps to promote the birth of a healthy baby, including eating right, taking vitamins and eliminating alcohol and nicotine from their lives.

Unfortunately, all those efforts may be for naught if they are still being exposed to unseen chemicals in their daily lives.  Dr. Doris Rapp, an experienced physician and expert on all the hidden household and environmental hazards in your home, wants women to know about the many insidious and dangerous threats to their unborn babies from the first moment they experience any pregnancy symptoms.  The harmful exposures can cause serious harm and damaging birth defects to babies in the womb, and they are right under our noses.

"One of the most dangerous groups of chemicals to pregnant women is known as PCBs," said Rapp, author of 32 Tips That Could Save Your Life.  "PCB stands for polychlorinated biphenyls, and they are commonly used in industrial pesticides.  While they may not be in your house, they may exist in your office, your water or your food, especially if you live near the Great Lakes or consume seafood caught there.  These chemicals pass through the placenta into the unborn, and some exposures have been known to cause devastating birth defects.  These chemicals have also been found in the breast milk of women."
According to Dr. Rapp, some of the dangers of these pesticides include, but are not limited to:
Lower birth weight
Smaller head size and developmental delays
Movement, mental, and behavioral problems
Increased or decreased activity levels
Slowed thought processing and "less bright" appearance
Lower reaction times
Compromised nervous systems
"Moreover, a group of pesticides known as organophosphates also poses a high risk for pregnant women," Rapp added.
"These include Bisphenol-A and phthalates," she said.  "They are derived from World War II nerve agents and are highly toxic.  Even at low levels, organophosphates can be toxic to the developing brain, and studies show that they can affect brain and reproductive development in unborn animals.
While most pesticides categorized as organophosphates have been banned for household use, they are still permitted for commercial use, including in fumigation for mosquitoes.   Malathion, a common toxic organophosphate, is still allowed for use as an industrial and household insecticide.  In the US, approximately 15 million pounds of Malathion are used each year by the government, as well as by businesses and homeowners."
Her advice for women is to do all they can to avoid contact with these chemicals, starting before conception.

"Stay as far away as possible from pesticide-treated areas," Rapp said.  "Do not eat pesticide-laden food or any fish from the Great Lakes.  Try to eat only organic foods.  Further, if your job requires you to be in contact with any chemicals or pesticides, insist that other tasks be given to you for the duration of your pregnancy.  Half the battle is knowing these dangers exist, but the other half is being informed and conscientious enough to be able to avoid contact with these dangerous and toxic agents."
Dr. Doris Rapp is board certified in pediatrics, pediatric allergy and environmental medicine.  She has published numerous medical articles, authored chapters in medical texts and written many informative and "how-to" books and booklets about allergy for the public.  She has also produced numerous educational videos and audiotapes for the public, educators and physicians.
I'm a former 7th grade Science teacher turned stay-at-home mom that lives in Houston, Texas. I am married to my college sweetheart and have a beautiful daughter named Riley, who definitely keeps me on my toes! I am also involved in starting a small business which would both manufacture and sell an invention that I've patented, called Toothpaste 2 Go. I love interacting with my readers and hope to learn as much about you as you learn about me!
Melissa @ Mommy Living the Life of Riley!