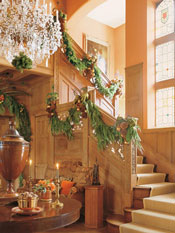 With the colder months upon us, most people are retreating indoors to find warmth and relaxation.  To create the most welcoming and inviting home this holiday season, Sherrell Watson, Public Relations Manager for Big Ass Fans, the worldwide leader in high-performance ceiling fans, recommends filling each room with comforts that will soothe not just one, but all five senses.
Here are her five tips to help make the upcoming holidays even more enchanting than years past while appealing to all five of the senses: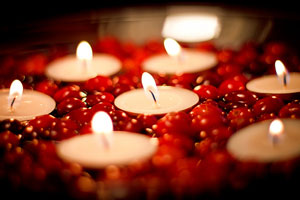 1. Smell:  It may be a scientific fact that humans can distinguish more than 10,000 different smells, but it's also true that just a few can summon up the holidays for many.  These include the aroma of freshly baked cookies and scents like cinnamon, pumpkin, pine or peppermint.
Luckily today, by investing in a few candles, such as Nest's luxury candles in Pumpkin Chai or their Holiday Classic that blends evergreen with citrus, you can easily evoke the holiday spirit in your home.  Place them in the foyer so as guests enter they are greeted with welcoming holiday scents.
2. Touch:  Touch is considered to be the most interesting and necessary of the five senses.  Tactile sensory information enters the nervous system from every single part of the body.  This winter, integrate comforting textures such as cashmere throws or plush rugs into your living space and circulate warm air throughout your home to make you and your surroundings even cozier.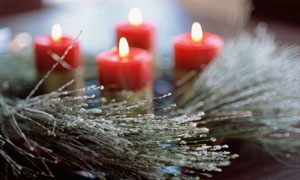 3. See:  It's common knowledge that images come in upside-down in the retina but our brains turn them right-side-up.  Upside-down or right-side-up, there's no better time of year to make your home shine than in the winter when the days are shorter.  For how to do something different in the all-important visual realm this season, Watson consulted with designer Matthew Yee, a Rising Star of the New York Chapter of the International Furnishings and Design Association.
Instead of the traditional red, gold and silver and evergreen decorations, Yee recommends making garlands or wreaths out of magnolia leaves which he calls "simple, yet rich and festive" and intertwining them with aubergine and gunmetal metallic ribbons.  "Metallics like gunmetal and pewter are richer than silver," says Yee.
For a more feminine look, he advises using dark salmon and copper ribbons.  Dressing white amaryllis with similar types of ribbons and putting them in clay pots or glass cylinders is another holiday look he favors.
He recommends trimming the tree with very simple white lights and colored ribbons and balls in either aubergine/gunmetal or dark salmon/copper color palettes.  For special dinners and other occasions, Yee suggests adding fresh cream-colored roses and green grapes to the feminine palette or real purple and green grapes to the masculine one.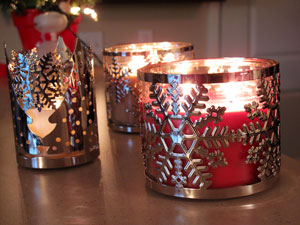 4. Taste:  The five primary tastes sweet, bitter, salty, sour and the latest – umami (the seaweed taste common in Japanese cooking) – compete for our attention all year.  During the holidays, indulge the sweet tooth at the tip of everyone's tongue with tasty treats around your home.
Set a glass jar of favorite holiday goodies on your kitchen table so guests and family members can nibble as they please.  For healthier bites, try baked cinnamon apples or ginger cookies, which offer natural sugar and spice.   Additionally, place candy dishes dressed with chocolate, mints or candy canes on the living room and hallway tables to treat guests no matter where they roam.
5. Hear:  It is estimated that less than one in 10,000 people have perfect pitch, but the holidays are a time when music can set the tone regardless of aptitudes.  One simple way to help guests and family members relax is to have soft music playing throughout your home.  Many studies suggest that music can relieve stress and activate areas in the brain that elevate moods.
We all know, however, the last thing most hosts want to do or have time to do is play DJ.  Consider using Pandora Internet radio, an automated music recommendation service.  Simply type in a song you and your guests enjoy and once it's finished, the radio station will continue to play musical selections similar to the song you entered for the rest of the gathering.  It is free with advertisements or by subscription, visit www.pandora.com.
With these easy tips, all five of your guests' senses will be thanking you this holiday season in your festive and cozy home.
I'm a former 7th grade Science teacher turned stay-at-home mom that lives in Houston, Texas. I am married to my college sweetheart and have a beautiful daughter named Riley, who definitely keeps me on my toes! I am also involved in starting a small business which would both manufacture and sell an invention that I've patented, called Toothpaste 2 Go. I love interacting with my readers and hope to learn as much about you as you learn about me!
Melissa @ Mommy Living the Life of Riley!