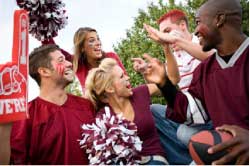 Fire up the grill and get ready for kickoff; football season is here. What goes hand-in-hand with football season? Tailgating of course. Fans everywhere are honing secret recipes and stocking up on supplies to make their party dominate the parking lot. It's important, however, to be mindful of spending, as the festivity's cost can quickly add up, from team memorabilia to beer and food.
Before you put the finishing touches on your tailgate plans, try out a few of these thrifty tips.
1. Team Up
The atmosphere at a major tailgate party is all about community, but don't be fooled; there are plenty of freeloaders floating around. Avoid overspending by getting some friends in on the action. Assign a couple of people to drinks, several to snacks, and you take care of the grill and meat. Consider it a sports-centric potluck that cuts costs for everyone. Need some culinary inspiration? Tailgating.com has dozens of free, fan-submitted recipes perfect for game day.
2. Carpool
With fuel prices at an all-time high, it's wise to carpool so you can split the costs of gas and parking. Depending on how often your posse goes to games, devise a schedule and assign driving duties fairly. Otherwise, search for ride share opportunities at sites like CarpoolConnect or CarpoolWorld.com. You can also post a ride and charge a small fee to cover gas and mileage for each seat.
3. Fan Gear for Less
The signs of a high-quality tailgate include a team flag flying high and jerseys as far as the eye can see. Even if you don't have a jersey, there's no excuse for not wearing team colors. If it seems like these items are too expensive, you can always use coupons to get free shipping at such stores as Finish Line from sites like FreeShipping.org.
4. Smart Food Choices
Pre-made salads, sandwich platters and cubed meats may be easy choices, but they're also much more expensive, with mark-ups reaching nearly 100 percent. You can save a lot on food by preparing your own before leaving home. Buy larger slabs of meat from the butcher and cut them up yourself. Depending on the number of people participating in the tailgate, consider buying some food items like cheese, chips, condiments and hot dogs in bulk from stores like Costoco for savings up to 30 percent.
5. Get Your Game On
There are only so many things to do in a parking lot, so it's key to include a few simple games in your plans, like a football to toss around. Lawn games like Corn Hole and Washers are also entertaining choices and can be found at reasonable prices among major retail chains like Sports Authority or Sears. For those with a crafty hand, consider building a board game from scratch for a fraction of the cost. You can get building tips at CornHoleHowTo.com. Otherwise, download the free NFL Football Trivia App on your smartphone to test the football knowledge of your tailgate buddies.
6. Borrow Before Buying
Tailgating requires a lot of supplies, from oversized coolers and pop-up canopies to folding tables and chairs. Before heading to the store to buy whatever gear you're lacking, find out if you can borrow from friends, neighbors or coworkers. Otherwise, scope out used goods on Craigslist or try trading items at Swap.com.
7. Bring the Tailgate Home
There's nothing like attending the game among other screaming fans, but when budgets are tight it's time to bring the tailgate home. You'll save on gas, parking and game tickets. Don't forget, sometimes it's just more fun to watch a big game at home, anyway; You get the benefit of multiple hi-def replay angles and a comfy couch seat while you avoid fighting traffic of a crowded parking lot after a long day of tailgating.
I'm a former 7th grade Science teacher turned stay-at-home mom that lives in Houston, Texas. I am married to my college sweetheart and have a beautiful daughter named Riley, who definitely keeps me on my toes! I am also involved in starting a small business which would both manufacture and sell an invention that I've patented, called Toothpaste 2 Go. I love interacting with my readers and hope to learn as much about you as you learn about me!
Melissa @ Mommy Living the Life of Riley!