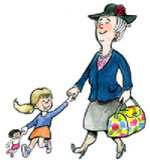 There are many unanswered questions when it comes to hiring a nanny – a decision that affects your child's life: Where can I find a nanny? How can I train a nanny? How can I make sure a nanny treats my child well?

"We watch troublesome stories in the news of how a nanny abuses a child, yet we see very few parents take the proper steps to ensure their child's safety and well-being," said Kim Cassford, co-founder of Cassford Management. "Most recently, a babysitter was charged with murdering 23-month-old Aaliyah Ali. In the wake of horrific stories such as this, we want to help parents understand the importance of selecting, screening and hiring the right person to care for your child."

We all want to make sure the person we leave our child with is qualified, professional and reliable. Cassford says this is achievable, but you must take the necessary steps to keep your child in good hands. Here are some important things you should know when looking for the perfect nanny:

STOP, THINK, ACT

Stop! Carve out the time to think about what you need from your nanny to ensure the most precious person in your life is safe and sound. Invest 30 minutes to an hour to list requirements, duties, hours of service, days of service and a realistic salary range. Parents who do not take this first step often end up in trouble. Only then can you begin the search.

DO YOUR HOMEWORK

Search for reputable resources to source your nanny. Ask friends and family who they have used and can refer. Research and do your due diligence. Learn the differentiating factors in using an agency versus conducting the search yourself.

TAKE ACTION - ACTIVATE YOUR SEARCH

As you review applicants' resumes or applications, look for the following:
- Legal working status. Do not hire a non-legal worker for reasons such as less money and/or longer working hours.
- Qualified help who has the appropriate credentials in child care.
- Years of experience.
- Employment history –be sure to speak to former employers.
- Conduct a full background check, including public records, criminal and credit history.
- Conduct a thorough interview process.

BE PROACTIVE AND MONITOR

After you've made your decision, trial the candidate for a period of time to ensure he/she is the right fit. Cassford recommends placing a monitoring camera in several locations and letting the nanny know they exist. Make sure you have careful supervision from a specialist to assist with assessing the nanny's skills, capability to perform the duties adequately and, most importantly, that he/she is a good fit for your household.
I'm a former 7th grade Science teacher turned stay-at-home mom that lives in Houston, Texas. I am married to my college sweetheart and have a beautiful daughter named Riley, who definitely keeps me on my toes! I am also involved in starting a small business which would both manufacture and sell an invention that I've patented, called Toothpaste 2 Go. I love interacting with my readers and hope to learn as much about you as you learn about me!
Melissa @ Mommy Living the Life of Riley!