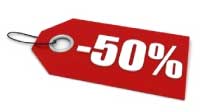 Getting back to everyday life after a holly-jolly holiday season requires serious adjustments. Instead of cozying up to the fire with a good book, you're stuck analyzing lifeless spreadsheets and sending uninspired emails.
Reintroduction to the 9 to 5 grind combined with a shocking influx of credit card bills often leads to a general refusal to spend money.  But stashing credit cards away and vowing not to buy until the weather warms up may actually do more harm than good.  According to The Best Time to Buy Guide from FreeShipping.org, certain products are offered at some of the best prices of the year in January.
1. Linens and Bedding
Thanks to decor non-conformists, "white sales" don't carry the same weight they used to. These days designs and patterns are right there with their colorless counterparts. Still, the spirit lives on in the post-holiday discounts you'll find on bedding and linens. Sheets, pillows, towels and more are all marked down to entice even the most practical spender. For advice on how to select linens, consult this article from The Early Show on CBS.
2. Calendars
Finding a good discount on a calendar in January is a no-brainer. With each passing day, calendars loose a little bit of value. Savvy shoppers wait a few weeks into the new year to see prices drop by as much as 70 percent. Selection is sometimes limited, but if you're a fan of extraordinary chickens you'll reap twice the benefits.
3. Gift Cards
Gift cards seem like such a safe present, but somehow there's always an aunt who thinks her college-aged nephew would really benefit from $50 at Pottery Barn. This sort of misguided gift giving has created a huge secondary market for unwanted cards, with inventory at it's highest after the holidays. So before you throw down cash for your next purchase, buy gift cards at a discount and enjoy immediate savings.
4. Motorcycles
If winter weather has forced you to abandon your open-air ride for the confines of a stuffy automobile, feed your desire for two-wheel freedom by shopping for motorcycle parts, accessories or even the whole bike itself. Once the snow finally melts and spring fever strikes, prices climb as more people have a hankering to hit the open road.
5. Perfume
This perennial holiday present usually sees its sales drop after Dec. 25 has passed. However, Feb. 14 isn't far away and demand will rise quickly. While there might still be some good Valentine's Day sales, stocking up on favorite fragrances during the month-long lull should get you some of the best prices of the year.
6. Holiday Supplies
Wrapping paper, lights and inflatable snowmen are all fair game for big savings in January. With nearly another year until the next holiday season rolls around, merchants are desperate to get whatever price they can for remaining red and green inventory. If you pick up some Christmas cards for cheap right now, you'll still have another 11 months to capture the perfect awkward family photo.
7. Video Games
When January arrives, gamers are concluding the mythical quests and top-secret missions they embarked on over Christmas. With no foes left to vanquish, they'll trade in their overplayed titles for something else, meaning more used games on the shelves. Also, many popular titles are targeted for release in the months leading up to the holidays, and such games see a drop in price after the hype has died down.
8. Furniture
Most new furniture models hit stores in February and August, which means leftovers from last year's collection have to go to make room for the latest and greatest. In January, retailers are more willing to wheel and deal to free up precious floor space. And don't hesitate to haggle for an even better price -- try a few of these helpful strategies from WiseBread to hone your skills.
FreeShipping.org is the largest resource on the Internet linking shoppers to free-shipping deals offered by nearly 4,000 online merchants.
I'm a former 7th grade Science teacher turned stay-at-home mom that lives in Houston, Texas. I am married to my college sweetheart and have a beautiful daughter named Riley, who definitely keeps me on my toes! I am also involved in starting a small business which would both manufacture and sell an invention that I've patented, called Toothpaste 2 Go. I love interacting with my readers and hope to learn as much about you as you learn about me!
Melissa @ Mommy Living the Life of Riley!