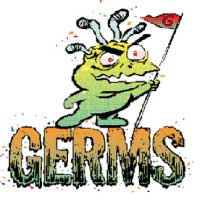 Spring is officially here, which means it's time to give your home a good "spring cleaning!"  Dr. Sears, pediatrician and co-host of the Emmy Award-winning syndicated daytime talk show THE DOCTORS shares some valuable tips on how to spruce up, clean up and have fun getting the house in order.  You may be shocked to learn about the following germ-infested areas in your house.  Make sure to really clean and disinfect the following areas well:
Kitchen floor around the sink – When washing dishes, contaminated water can splash around and get on the floor, accumulating more bacteria than inside the kitchen trashcan!  Make sure to wipe down the floor and toss kitchen mats in the washing machine once a week.
Cutting board – Your ordinary cutting board can be host to more than 200 times the bacteria than a toilet seat.  Choose non-porous boards (plastic, not wood), and make sure to wash them thoroughly with soap and hot water.
Shelves and drawers in the fridge – These small spaces can be petri dishes for food contaminants like E. coli, salmonella and listeria.  Make sure to wash them thoroughly, especially the areas where meat and cheese are stored.
Computer keyboard – This everyday tool is host to five times more dirt than the toilet seat!  Wipe it down with antibacterial spray – same with the computer mouse, TV remote and light switches around the house.
Bathroom faucet handles – This germ trap carries more bacteria than the keyboard, mouse, remote and light switches combined.  Make sure to clean it a few times a week, especially with children and/or house guests around.
Toilet paper roll dispenser – Not surprisingly, since the dispenser is used before hands are clean, it can get contaminated quickly and has 100 times more bacteria than the toilet.
What areas in your home do you think have the most germs? Are there any places you make sure to clean WITHOUT FAIL?
I'm a former 7th grade Science teacher turned stay-at-home mom that lives in Houston, Texas. I am married to my college sweetheart and have a beautiful daughter named Riley, who definitely keeps me on my toes! I am also involved in starting a small business which would both manufacture and sell an invention that I've patented, called Toothpaste 2 Go. I love interacting with my readers and hope to learn as much about you as you learn about me!
Melissa @ Mommy Living the Life of Riley!