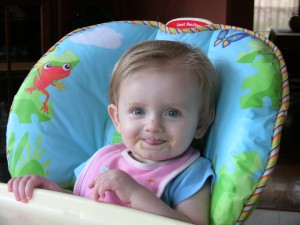 I thought that maybe on this Toddler Tuesday, I would travel off the beaten path of cute baby pics and videos, to bring you a few tips regarding making your own baby food at home.  You see, somewhere along the way I got it into my head that I would never serve Riley any store bought baby food.
I had always heard how expensive that stuff was and how easy making your own baby food really is.  Also, I knew I was going to be a stay-at-home mom when I had Riley, and so I thought this could also be a great way for me to contribute to our family budget and save us a little money at the same time!
I was shocked and surprised at just how easy it really is and also how inexpensive!  The great thing about it is that I know exactly what is going into her food and I feel good knowing that it is extremely fresh too!  For any parent who may be thinking about making your own baby or toddler food, I'm passing on the tips and tools of the trade right here:
Best Tools I've Found for Making Baby Food at Home

Double Boiler

This is an essential tool which makes steaming vegetables a breeze!  You might already have one of these in your cookware collection.

Food Processor

Another essential component for pureeing baby food.  If your baby is already used to texture in their food, then you probably won't need this.  You can manually mash up their food.

Baby Food
Storage Trays

I LOVED THESE because they helped me store the food in 1 oz. portions, perfect for baby.  This was so convenient to have done at feeding time.

Plastic Freezer
Safe Containers

These are great for bulk storage of prepared food.  Sometimes, if there was a certain vegetable on sale, I would make up enough food for a month.  These containers helped me store this large amount in our freezer.
Okay, now that we know what tools to have on hand, and most of these you probably already had in your kitchen, it's time to divulge some of Riley's favorite recipes!  Personally, we don't add much spice and seasoning to her food, but please feel free to add whatever you'd like to make these "bare bones" recipes more tasty for your little one!
*MASH*  (The bread and butter in Riley's diet)
Now, I'm a first time mom and so some things I just found out by trial and error and this recipe was definitely one of those!  Riley has eaten this in some form or fashion since she started eating solid foods (around 8-9 months of age).  We mix this into almost everything she eats and it seems to make even the most difficult foods edible for her.  Believe me, I never thought to mix this with vegetables such as broccoli, green beans, carrots, cauliflower, etc., but Riley will wolf down any kind of food it seems as long as there is some *MASH* in it!
Directions: Mix equal parts baby cereal (oat, rice, or mixed grain) with unsweetened applesauce.  Add either more cereal or applesauce until you get the consistency you're looking for.
NOTE: This is a great food by itself if you're baby isn't feeling well (teething, upset tummy, under the weather, etc.)  This is our standby food when Riley doesn't feel well and doesn't want to eat.
---
SWEET POTATOES ~ Riley's FAVORITE Food...and She Has the Orange Nose to Prove It!
This is BY FAR the easiest thing in the world to make!
Directions: All you need to do here is set your toaster oven to 425 degrees and cover the pan you're using in the oven with tin foil.  Sweet potatoes can sometimes ooze and that stuff is nearly impossible to get off of your pans.  The foil makes this extremely easy to clean up!  Poke about 5-10 holes in the sweet potato with a knife and place on the toaster oven pan.  Bake for 50-55 minutes and then let potato cool.  Once cool, peel off the skin and place into food processor for a puree or mash with a fork for a meal with more texture.
---
Steamed ORGANIC Vegetables ~ (Cauliflower, Broccoli, Carrots, Green Beans, Squash)
Directions: Wash vegetables, peel (if necessary) and cut up into very small pieces ( no larger than 1").  Place them into the top pan of the double boiler.  Put about 2-3 inches of water in the bottom pan and bring this water to a boil.  Once the water is boiling, place the top pan with the vegetables in it on top of the bottom pan and cover top pan with the lid.  Cook these vegetables for about 15-20 minutes or until tender.
I used to open the lid and mash down on the vegetable with a fork.  If the fork presses into the vegetable fairly easy, then they are done.  Depending on the consistency you'd like, transfer the vegetables into your food processor.  Puree the vegetables for small babies or leave a little texture there for older babies.  For toddlers like my daughter who is ready for table food, you can skip this step completely and mash up the vegetables with a fork instead, for maximum texture.
---
Other Standard Sources for Quick and Easy Baby Meals:
Canned fruit, such as peaches, pears, pineapple and mandarin oranges.
Canned beans, such as black beans, kidney beans, pinto beans, navy beans, etc.
Block cheese...cut up into little squares for flavorful finger food.
Frozen fruits and vegetables, such as peas, corn, blueberries, etc.
Finger foods such as Cheerios, Crispix, Chex cereal, rice cakes, wheat crackers, etc.
NOTE: Make sure to always read the ingredients on anything you give to your baby.  Do your best to only buy food with natural ingredients and without artificial sweeteners and preservatives.  Remember, by making your own baby food you are choosing exactly what your baby will be eating!  CHOOSE WISELY!  :)
THE POSSIBILITIES ARE ENDLESS AND SO ARE THE SAVINGS AND THE NUTRITION!
I'm a former 7th grade Science teacher turned stay-at-home mom that lives in Houston, Texas. I am married to my college sweetheart and have a beautiful daughter named Riley, who definitely keeps me on my toes! I am also involved in starting a small business which would both manufacture and sell an invention that I've patented, called Toothpaste 2 Go. I love interacting with my readers and hope to learn as much about you as you learn about me!
Melissa @ Mommy Living the Life of Riley!