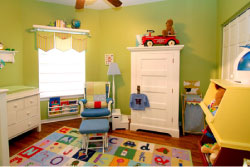 Decorating a nursery is a special and exciting time. But when you've never had a baby before, it can also be overwhelming. Little babies need a surprising amount of stuff, including things you may have never heard of before! The good news is the desire to create a safe, warm, beautiful place for our babies is instinctual - it's called nesting. The "Peaceful Nursery: Green, Healthy Tips For Your Baby's Room" app gives you all the information and guidance you need to ensure you enjoy the process.
The "Peaceful Nursery: Green, Healthy Tips For Your Baby's Room" features a quick and easy shopping checklist of all the right items to buy for the nursery, along with tips that include: How to make healthy choices when shopping for your baby; Why going green is so important for infants; Choosing paint color; and arranging your nursery to help your baby sleep better. The app also includes video insights from the app's co-authors, Healthy Home and Lifestyle experts Laura Forbes Carlin and Alison Forbes.
Carlin and Forbes want to help you with the overwhelming process of designing the perfect nursery for your new bundle of joy and offer these tips to guide you along:
Don't Get Caught Up in the Hype:
When shopping for baby, keep in mind you may not need everything that's recommended. Parents develop their own parenting philosophy, and should stock the nursery according to their needs. While shopping keep in mind every parent hopes that some new product will make the parenting job easier---but unfortunately that's usually not the case! While some things are helpful, others become a waste of money and clutter, so try to keep it simple.
Don't Buy Lots of Toys:
Babies don't need many toys. As we all know babies are often more interested in regular household items, like bowls and spoons, rather than actual toys. If you get lots of toys as gifts, put some in the closet to save for later. Every once in awhile rotate which toys you have out. Rotating toys makes old toys seem fresh and new. If you plan on having another child, take time to carefully clean and then store toys so they're in good shape for your next baby.
Don't Use Conventional Cleaning Products:
Household cleaning products are one of the causes of indoor air pollution. Many household cleaning products contain toxic chemicals such as ammonia and phenol. To avoid exposing yourself to these hazardous pollutants, look for non-toxic, environmentally safe household cleaning products.
Don't Buy What Looks Good in Lieu of Function, Comfort, and Organization:
Transitioning to parenthood and caring for a newborn is time and energy consuming enough- --you don't want to have to negotiate with unnecessary items or things that do not function properly. Taking care of your baby means doing the same things over and over. You may change a diaper 8-10 times a day.
It helps to be organized and have a place for everything in easy reach.  Similarly, you want to be comfortable---choose a nursing chair that feels good. If you keep function, organization and how something feels in the forefront of your mind versus what looks good- you create a space that supports your routines.
Don't Wear Shoes Inside:
Having people remove their shoes before they enter your home is a simple and free tip to creating a healthier home. By having a shoeless household, pesticides from lawn and garden products, pollutants and dirt will not be tracked inside. This is particularly important when you have young children that play on the floor!
Do Go Organic and Natural:
Unfortunately, many materials used to decorate, including certain types of paint, finishes, carpeting, fabrics, and particleboard, contain harmful chemicals such as formaldehyde, toluene and benzene. These chemicals are Volatile Organic Compounds (VOCs), that through a process called "off-gassing," release fumes into the air. Pound per pound babies breathe more air, eat more food, drink more water and are therefore exposed to more toxins.
Babies' immature organs are less able to cope with the toxins in their environment than those of adults. Fortunately, there are healthy alternatives, such as solid wood furniture (rather than pressed wood which can contain formaldehyde) and organic materials and mattresses. If organic sheets and clothes are too pricey, buy 100% cotton clothes and sheets that are untreated (avoid anything that says stain-, wrinkle-, or water-resistant). Wash the fabric in an all-natural laundry detergent two or three times before use.
Do Use No-VOC Paints in Soothing Colors:
Paints can give off toxic fumes known as VOCs. These chemicals can remain in the air even after the paint is dry. Use No-VOC paints, which are a healthier, less toxic option or you can also use natural paints, such as milk paint or natural lime paint. Choose colors such as light blue, lavender or other pastels for a restful, relaxed atmosphere and save the vibrant colors for accents.
Anything permanent like a mural or wall paper that are active or "busy" can be overwhelming and are hard to change if your child has trouble sleeping. Keep in mind children have no problem brightening up the room at playtime with colorful toys. When painting, focus more on creating a "sleeping room," rather than a playroom.
Do Talk To Your Friends and Research:
The best "research" is hands on. Try to visit a friend with a newborn whose parenting style you think will be similar to yours. See what your friend finds essential and what she or he could have done without. Read books as well. If you plan to co-sleep- there goes the need for a crib and everything that goes along with it.
Maybe you have the perfect height dresser to strap on a changing pad and you have saved yourself from a changing table. I have never seen a diaper pail that does not smell. Buy some bio-bags and individually wrap each diaper and toss it instead of purchasing the fancy diaper pails.
Of course, if your friends aren't within driving distance, you can use a free app like MyLife.com to stay connected with everyone by managing your Facebook, Twitter and LinkedIn accounts.
Do Open Your Windows:
Create a healthier home immediately, and for free, by just opening a window. A study by the Environmental Protection Agency found that pollution inside a home could be two to five times higher than outside the home, even in large, industrialized cities. Ventilating your home on a regular basis creates a way for chemicals released from common household items to exit and fresh air to enter.
Do Think Ahead:
It is hard to imagine now, but you will have a big boy or girl before you know it. Instead of decorating the room for an infant you may wish to create a room where the majority of things will work for the next ten years or more. If you buy a crib, buy one that converts to a toddler bed. This way, it will last for years. Instead of buying a changing table, consider buying a changing station to out on top of a regular dresser.
I'm a former 7th grade Science teacher turned stay-at-home mom that lives in Houston, Texas. I am married to my college sweetheart and have a beautiful daughter named Riley, who definitely keeps me on my toes! I am also involved in starting a small business which would both manufacture and sell an invention that I've patented, called Toothpaste 2 Go. I love interacting with my readers and hope to learn as much about you as you learn about me!
Melissa @ Mommy Living the Life of Riley!