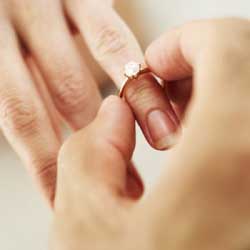 An estimated four million couples were expected to get engaged on Valentine's Day, making it one of the most popular days to get down on bended knee. If you're among this group of soon-to-be brides and grooms, there's no better time than now to develop a game plan for bankrolling your big day.
Though a detailed review of your finances and a realistic wedding budget will need to be devised, cutting back on certain expenses will ultimately lead toward a debt-free celebration. This doesn't mean you have to put your entire life on hold until you say "I Do," however. Instead, make a few budget tweaks to kick off your wedding savings.
Here are 10 easy ways to help you spend less and save more.
1. Dine out less.
With an expensive event to save for, look for areas in your lifestyle that can greatly reduce the amount of money you spend. Dining out regularly, for example, eats into your budget to the tune of $200 per month, according to the National Restaurant Association. Cooking at home will not only save money, but also provides a unique bonding opportunity with your soon-to-be spouse.
2. Sell your stuff.
Peruse your closet for clothes, shoes and accessories you haven't worn for a year and start purging. Post the goods online via Craigslist and eBay, or sell through your local consignment shop. The same goes for furniture, home goods and sporting equipment. You can even exchange gift cards for cash on sites like GiftCardGranny.com.
3. Trim salon visits.
Whether you're a hair-color fiend or addicted to manicures and massages, it's time to trim those salon visits. Let your hair grow out a little longer to stretch time between visits and save on cuts. Give yourself at-home mani-pedis with inexpensive drugstore kits. Though weekly massages may help you relax, make a date with your bathtub and suds it up with a little mellow music to help you unwind.
4. Movie night alternatives.
Skip the $5 movie from you cable provider for a $1 Redbox rental, or get your cinema fix via online streaming with Hulu. You can also pick up free DVDs at your local library, or swap movies you own with friends for something new to watch.
5. Find a side gig.
From weekend bartending (up to $300 nightly) to watching the neighbors kids ($15 per hour), you could supplement your savings with extra cash from a side gig. Just make sure you don't spread yourself too thin with the added workload. Wedding planning takes time, after all, and you don't want to kill yourself saving up for an extra plate of foie gras.
6. Nix dry cleaning.
Instead of paying $10 to $20 per item for dry cleaning, use at-home dry-cleaning kits ($13 for 6 pouches), which freshen up your clothes in the dryer instantly. Going forward, check clothing labels for care requirements and try to avoid dry clean-only garments.
7. Brew your own cup of joe.
Wake up a few minutes early and make your own coffee. This is one of the most common -- and yet most overlooked -- daily savings tips. With coffee and espresso running anywhere from $1 to $5 per serving, potential savings could reach $35 per week or $140 monthly.
8. Redeem reward points.
According to a study by Colloquy, the average household participating in loyalty programs -- like those offered by credit cards -- earns approximately $622 in rewards annually, and fails to redeem $205. If you're guilty of leaving 200 bones on the table, now is the time to start redeeming those points. Get gift cards to use toward wedding expenses or try to pay for a portion of your honeymoon travel expenses with the points.
9. Use your tax refund wisely.
The average tax refund in 2011 was nearly $3,000, according to CNNMoney. If you're fortunate enough to receive that kind of sum again this year, open a high-interest savings account and deposit the refund immediately. Then, review the W4 you have on file with your employer and adjust your withholding. You don't want to miss out on an extra $250 of income each month going forward.
10. Mass transportation for massive savings.
For city dwellers, vow to take the subway or bus to work instead of a taxi to yield a savings potential up to $20 per day. For those who cab it around town because alcohol is involved, many props to you. However, you may consider electing a sober driver or ween yourself from the costly activity altogether.
Andrea Woroch is a nationally-recognized consumer and money-saving expert for Kinoli Inc. She is available for in-studio, satellite or skype interviews and to write guest posts or articles. To view recent interviews or for more savings tips visit AndreaWoroch.com.
I'm a former 7th grade Science teacher turned stay-at-home mom that lives in Houston, Texas. I am married to my college sweetheart and have a beautiful daughter named Riley, who definitely keeps me on my toes! I am also involved in starting a small business which would both manufacture and sell an invention that I've patented, called Toothpaste 2 Go. I love interacting with my readers and hope to learn as much about you as you learn about me!
Melissa @ Mommy Living the Life of Riley!