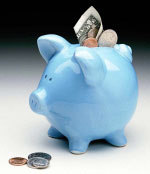 Spending money to save money doesn't seem like a logical concept, but if you know what you're doing, then it can be a smart way to stretch your budget. The trick to this strategy is to only buy what you need and what you planned on purchasing anyway. Take toilet paper for example. Toilet paper doesn't spoil and often costs less when bought in bulk, so it's worth stocking up on to reap the savings overtime, as long as you have the storage space.
Read on for more ways you can spend money and save at the same time.
1. Purchase a Club Membership
While you have to pay for a membership fee to join clubs like Costco and Sam's Club, they do offer excellent prices on many items sold in bulk. Try not to buy on impulse, however, as you could find your pantry stocked with 20 years worth of canned beans.
2. Buy Gift Cards
Buying gift cards from discount sites like Gift Card Granny is a great way to save on everything from groceries to electronics, particularly since you can buy gift cards at these sites for up to half their face value.
3. Dive into Deal-of-the-Day Sites
I recently received an offer from Groupon to buy $40 worth of bedding plants for just $17. Since I planned on spending at least $50 on garden starts this year, that's a real deal. Make sure the group-buying deal is truly something you'll use. While a sky diving adventure may sound like a real kick, it's not worth the price if you're afraid of heights.
4. Stock Up to Increase Online Savings
Purchasing more may qualify your online order for a better value coupon or free shipping. For example, Amazon.com has free shipping on most orders over $25. If your cart reaches $22, throw in an extra item to reach that threshold and benefit from the delivery discount.
5. Stockpile with Multiple Coupons
Keep an eye out for coupons on non-perishable items you'll actually use and collect extra coupons for your next shopping trip by dumpster diving in recycling bins or ask neighbors for their newspaper circulars. Use all the coupons you've collected to bulk up on the offer and stockpile products for later while enjoying the immediate money-saving offer. Make sure you read the fine print, however, as some coupons can only be used for a maximum amount, say two or four packages of baby diapers.
6. Throw In A Little Lagniappe
Lagniappe is a term used in New Orleans referring to something extra you get for free, like a baker's dozen of donuts. Sometimes it pays to buy a little something extra you don't really need to make use of a coupon. For example, I had a $10 off grocery coupon that kicked in if I spent $50. My bill came to $49, so I tossed in a few gum packets to reach the $50 mark. Basically, the gum was free Lagniappe.
LET ME PICK YOUR BRAIN!
Do you have any great examples of how you spend money in order to save it?

I'm a former 7th grade Science teacher turned stay-at-home mom that lives in Houston, Texas. I am married to my college sweetheart and have a beautiful daughter named Riley, who definitely keeps me on my toes! I am also involved in starting a small business which would both manufacture and sell an invention that I've patented, called Toothpaste 2 Go. I love interacting with my readers and hope to learn as much about you as you learn about me!
Melissa @ Mommy Living the Life of Riley!