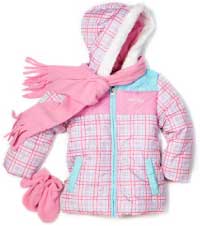 One of the most essential pieces of clothing you'll buy this season is your child's winter coat.  I don't know why children's winter wear is so expensive, but in the few years that I've been buying kids jackets for Riley, I've discovered that her coats cost almost what mine do!  I don't mind splurging a little when it comes to either my husband's or my own jacket, because we will be able to wear ours for many, many years to come.  But with the way my little weed is growing, I'll be lucky if her winter coat lasts the entire winter!
So what's a family to do when your budget is tight, yet all of your children need warm jackets for winter?  Here's a few tips that I've found will give you the most bang for your buck and keep your kids toasty all season long:
Shop off-season:  This is my number one tip for clothes shopping and one that has allowed me to stay trendy and stylish on a pauper's budget.  I almost never shop for clothes in-season and am always finding myself purchasing winter wear in the spring and summer and summer clothing in the fall and winter.  You can easily net 70% or more off of the retail price, which means that you can really stretch your dollar 'til it screams!
Shop consignment/second-hand stores:

  Sometimes consignment/second-hand stores get a bad rap, mostly by people who don't shop there.  For the most part, these stores are extremely choosy in what they'll take in as inventory, so you can truly find gently-used "gold mines" here.  If you weren't able to shop off-season and need that winter jacket now, head on over to your nearest second-hand store.
Don't forget your local garage sales:  Garage sales are usually the last ditch bargaining ground before most of that stuff ends up in the donation pile or the garbage heap.  The best times to shop garage sales are usually right when they open (Sat. morning) or before they close (Sun. afternoon).  Saturday mornings will always give you the best selection and variety, but Sunday afternoons will give you the best prices, since most of the time the owners just want to get rid of it.  Just remember, all sales are ALWAYS FINAL, so check everything over with the proverbial fine-tooth comb.

Name brand doesn't necessarily equal quality:

  I've learned this lesson the hard way.  Assuming that because a name-brand kids jacket costs 4X what a generic or discount store jacket costs, it has to be 4X better, right?  WRONG!  Name brands don't necessarily equal quality...quality equals quality.  Inspect everything you purchase and note the stitching, materials used, care instructions, features of the garment, etc.  Remember, children can be especially hard on their clothing and so to stretch your winter budget even farther, make sure that what you buy is going to last.
If you follow any or all of the tips I've listed above, I'm sure that you will be able to keep your child dressed to the nines on a budget even Scrooge would be proud of!
I'm a former 7th grade Science teacher turned stay-at-home mom that lives in Houston, Texas. I am married to my college sweetheart and have a beautiful daughter named Riley, who definitely keeps me on my toes! I am also involved in starting a small business which would both manufacture and sell an invention that I've patented, called Toothpaste 2 Go. I love interacting with my readers and hope to learn as much about you as you learn about me!
Melissa @ Mommy Living the Life of Riley!