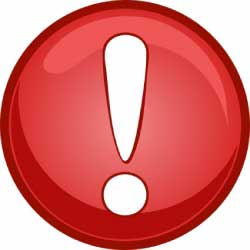 It pains me to write this post, since I pride myself on keeping this blog upbeat, positive and drama-free, but I have a responsibility to report to you a recent disappointment that happened concerning a sponsor I've worked with in the past, Fill In the Blankie.
Back in December, I hosted a review/giveaway for this company whereby I received an Ultra Personalized Baby Blanket to review and one lucky reader of mine was going to be awarded the same thing.  The winner was drawn and promptly responded to confirm her win, but Fill In the Blankie CHOSE TO NEVER COMMUNICATE WITH EITHER HER OR I AGAIN, so the winner has not received her blanket.
When the winner informed me that she hadn't received any reply from the sponsor regarding her prize, I immediately sent several emails which also didn't get a reply.  I then sent over 10 emails to every address I could find for Fill In the Blankie, as well as posted on their Facebook page, sent Todd Lilly (President of Fill In the Blankie) a message on his own personal Facebook page, sent them direct messages via Twitter and called their company's phone number 5 times and left numerous phone messages.  Not one person bothered to respond which makes me extremely angry that they would choose to treat people this way.
I recently discovered that unfortunately, this is how they treat most of their customers and not just me and my readers.  I received a message from an angry customer of theirs on Facebook stating that she actually PURCHASED a blanket of theirs back in early February and has yet to receive it.  She's sent numerous emails, phone calls and faxes and hasn't received a response and has since been banned from posting on their Facebook page.  This is abhorrent and these people should be ashamed of themselves for the crooked operation they are running.
There's also proof that these recent events aren't isolated ones, but rather a consistent history of how Fill In the Blankie operates, as shown by their "F" rating from the Better Business Bureau:
http://www.bbb.org/dallas/business-reviews/services-general/sonya-bebeblankee-in-dallas-tx-90022957
It is my job to inform you of all the wonderful family-friendly products I find, but I feel it is also my job to inform you when a company has this level of blatant disregard for their customers.  I have NEVER, in my two-and-a-half years of blogging, had a sponsor not fulfill their obligation to award a giveaway prize, before this occurance with Fill In the Blankie.  I am genuinely sorry that a reader of mine will not be receiving the prize that they rightfully won and I wish there was more that I could do to rectify this situation for her.
Fill In the Blankie, I've got a few choice words I'd like you to "Fill In the Blankie" with!
If this situation bothers you too, then by all means, take the time to make your voice heard and warn others about their horrible practices.  Share this post on Facebook, Twitter, Pinterest, StumbleUpon, etc.  We can make sure that this never happens to another customer or blog giveaway winner again!
I'm a former 7th grade Science teacher turned stay-at-home mom that lives in Houston, Texas. I am married to my college sweetheart and have a beautiful daughter named Riley, who definitely keeps me on my toes! I am also involved in starting a small business which would both manufacture and sell an invention that I've patented, called Toothpaste 2 Go. I love interacting with my readers and hope to learn as much about you as you learn about me!
Melissa @ Mommy Living the Life of Riley!