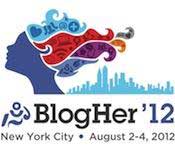 On to day 3 of my trip to BlogHer '12 in NYC...  This Saturday, I was a little wiped out from all of the hustle and bustle of yesterday, and had vowed that today would be a little more peaceful and laid back.  There was one class I was dying to go to, How to Price and Value Your Services, but other than that, I was planning on making a full day of visiting with the vendors at the expo.
The one great thing about having so many fab vendors at expo is that you never have to pay for food and drink, if you're frugal and time your visits accordingly.  For instance, I knew exactly where the Dannon table was for a free sampling of yogurt, then I'd hit the Nescafe booth for a cup of joe flavored with some of their yummy new coffee creamers, and finally, I'd round off breakfast with a cup of fresh fruit from Dole.
Call me cheap, but I'm proud to say that if you plan well, you can literally eat almost every meal in this way.  During my whole four-day stay in NYC, I only bought lunch on Thursday, a midnight snack of a Snickers and a bottle of milk and a slice of pizza.  Since New York is a lot more expensive than Texas, it definitely behooved me to try and cut spending wherever I could.  For instance, that Snickers and bottle of milk I bought cost me a whopping $5.78!
One of the things I really wanted to do while visiting New York City was to head on over to the Bronx Zoo.  Unfortunately, I could tell from the moment I arrived at BlogHer that this conference was going to take up almost every minute of my time there.  I did decide though that after I was finished with expo and the CVS private party, I was going to carve out a little time for myself and hit the streets of NYC.  After all, I had two folks back home that would love to receive a few special souvenirs, and I needed to go shopping!
First, I loved every minute of visiting the expo.  I made my way around to visit Wendy from Energizer, a wonderful rep that I've worked with for quite some time.  I also met several other sponsors that I've worked with in the past and it was great to talk face-to-face and meet up in person.  There were some terrific new products, ideas and charities that I had never seen before and I was all too interested to find out more.
Some of my favorite companies and products of the day were Halo Children's Oral Antiseptic, the new Starbucks Verismo System and the truly smart automatic vacuum, the Neato XV-21.  Hopefully, I will be bringing you some official reviews of these products in the near future!  :praying:
I officially ended my BlogHer experience with the afternoon class, How to Price and Value Your Services.  Again, I was a little disappointed at the level this class was geared toward.  Although the panel of ladies were extremely engaging and definitely knew their stuff, I have to admit that the class was more basic and beginner than I had hoped it would be.  I ended up leaving a little early and decided to head on over to Ray's pizza for a slice and then possibly go see the new Batman movie.  After all, there was a theater right across the street from my hotel that was showing it...too convenient to pass up!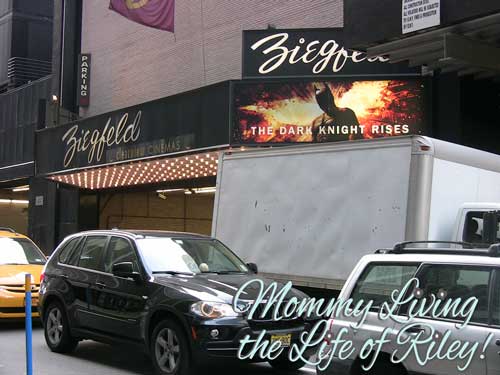 The Ziegfeld theater was a nod to movie theaters of a much earlier time.  It only had one screen and was covered from head to toe in rich, burgundy velvet and plush carpeting.  There were beautiful crystal chandeliers hanging everywhere and it gave me a feeling that I was going to see an opera, rather than a summer blockbuster.  I don't know why, but I've always wanted to see a movie in New York City and now I can officially cross that off of my to-do list.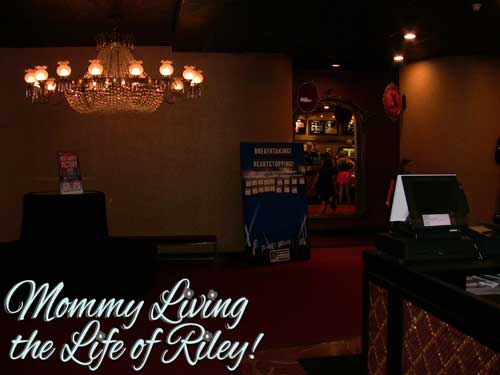 Although it was a little unnerving at first to watch The Dark Knight Rises in a movie theater after the horrible tragedy in Aurora, I have to admit that I felt much safer because two of NYPD's finest were stationed outside of the entrance the entire time.  The movie was fantastic and when everyone in the theater stood up and cheered at the very end, I couldn't help leaving this place grinning from ear to ear.
That left me with the urge to head down to Times Square to take a few pics and experience a little more of what Manhattan had to offer.  Even though I've been to New York City before, that trip was almost ten years ago and I just couldn't resist seeing the bright lights of this spectacular stretch of street.  Here's two of my favorite photos: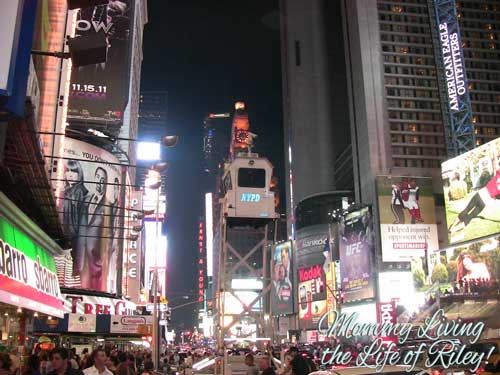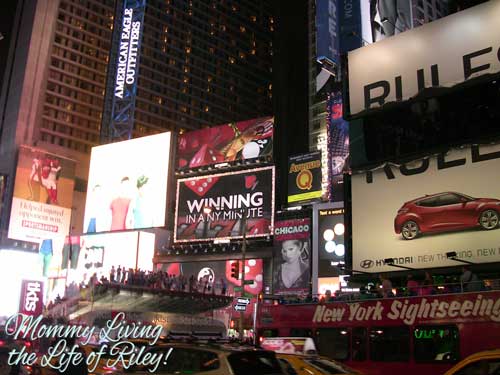 I can't say I wasn't ready to go home on Sunday, because I definitely was.  I missed my husband and daughter terribly and couldn't wait to see their bright, shiny faces again.  Skype was good, but nothing beats the real thing.  Stay tuned for my final post which sums up this newbie's thoughts, feelings and lessons learned from BlogHer '12!
If you've been to BlogHer before, did you find time to do any sightseeing or have a little time to yourself?
Disclosure:  I'd also like to thank

Step2

for helping me to make this trip to New York City possible and sponsoring me for BlogHer '12!
I'm a former 7th grade Science teacher turned stay-at-home mom that lives in Houston, Texas. I am married to my college sweetheart and have a beautiful daughter named Riley, who definitely keeps me on my toes! I am also involved in starting a small business which would both manufacture and sell an invention that I've patented, called Toothpaste 2 Go. I love interacting with my readers and hope to learn as much about you as you learn about me!
Melissa @ Mommy Living the Life of Riley!