Posted by: Melissa @ Mommy Living the Life of Riley on August 9th, 2012 Filed in:
My Ramblings...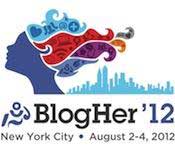 If you've read my previous posts about this newbie's experience at BlogHer '12, you may be asking yourself what my final impressions of the whole she-bang were.  What were the highs?  What were the lows?  Would I want to go again?
Well, I have to say unequivocally that the highs for me were talking and hanging out with the other fabulous bloggers I met while attending the private parties thrown by some of the sponsors I've previously worked with.  I've got so many new Facebook friends and contacts from these events that going to BlogHer was completely worthwhile for just this level of face-to-face networking.