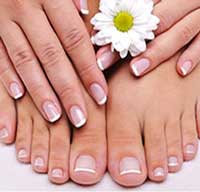 One of the things I enjoy more than anything else is a trip to my local nail salon.  When I was younger, I thought that a "shop 'til you drop" trip to the mall was definitely the bees' knees, but now, nothing sounds sweeter than a little relaxation and pampering.
Unfortunately, a trip to the salon isn't cheap.  By the time, I get a mani/pedi and leave a tip, I've easily spent over $60.  :wow:  In this economy, the spa is simply a gratification that's best left alone.  Fortunately, home spa treatments can provide the same level of luxury without the exorbitant prices.
Beauty Chic has created an entire line of amazing home beauty products guaranteed to make your face, hands and feet appear fresh from the salon.  Keep reading to see my five step plan for relaxation and pampering on a budget!

Beauty Chic Brings You the Best in Home Spa Treatments on a Budget
Beauty Chic has found a way to make pampering yourself a luxurious HOME experience, saving you plenty of money in the process.  Check out my five step plan for feeling relaxed and renewed all from the comfort of your own home.
Step 1:
Kick everyone out of the house for a few hours so that you can truly relax and let your hair down.  My husband had a "father/daughter date" with Riley where he took her out for pizza and then to the park.  YES!  Now I could have a little ME time!  Once your house is empty, I suggest cranking up the radio to some of your favorite tunes.  I forgot that I actually used to listen to cool music before I became a mom and was subsequently inundated with Sprout and the Disney channel.  :dancing:
Step 2:
Now that you have a little peace and quiet and are jamming a few good tunes, it's time to move on to the facial.  Beauty Chic's Facial Sauna restores skin's natural radiance thanks to its deep pore cleansing.  Included with the facial sauna is a refreshing cucumber mask that reduces oil, tightens pores and gives you softer, more radiant skin.  Enjoy this mask while you move on to step 3.
Step 3:
Put the Beauty Chic Pampering Foot Spa to work and soak those tootsies!  Let the bubbles massage away all of the stress and tenseness and drift off to your favorite music for a bit.  Using this product was truly heavenly and in no time I was so relaxed, I actually fell asleep!  :sleep:
Step 4:
Now that I'm awake again from my brief beauty sleep, it's time to grab the Cordless Mani/Pedi Kit and get to work.  Because this tool is battery operated, you don't have to worry about cords getting in the way or being near a power source.  While my feet continued to soak, I used the seven included attachments to shape, clean and buff my nails.  In addition, the robust filing disks softened calluses while the polishing tools left my nails soft and shiny.
Step 5:
Once your nails are looking great and your feet have had ample time to soak, grab the final Beauty Chic product to complete your barrage of home spa treatments.  Convenient and portable, the Pedicure Spa Kit has absolutely everything you'll need for soft, beautiful feet from heel to toe.  It contains a callous remover, natural pumice stone, toe clippers, separators and nail brush all in a handy storage pouch.
So take my advice if you're a beautiful, yet busy, mom on a budget.  Save those salon dollars and team up with Beauty Chic for a day of at home spa treatments that will pamper and relax without the stress of a salon bill.  Remember, radiant skin, soft feet and manicured nails are truly a girl's best friend!  :awe:
Disclosure:  I received the Beauty Chic products mentioned above in order to facilitate my review. No other compensation was received. This product review is based on my own personal experiences with this item and is completely honest and objective.
I'm a former 7th grade Science teacher turned stay-at-home mom that lives in Houston, Texas. I am married to my college sweetheart and have a beautiful daughter named Riley, who definitely keeps me on my toes! I am also involved in starting a small business which would both manufacture and sell an invention that I've patented, called Toothpaste 2 Go. I love interacting with my readers and hope to learn as much about you as you learn about me!
Melissa @ Mommy Living the Life of Riley!