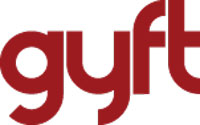 Gift cards:  I love them and I hate them!  Obviously, I love them because they're basically cash, yet I can't be tempted to pay bills with them, so they're like a special shopping treat.  The thing I hate about gift cards though is that they are so darn bulky!
My purse is crammed full with them and I never know how much is on each one.  This leaves me fumbling around in the checkout line trying to figure out what is left to spend on each gift card and what I'll have to pay for myself.  Right now, almost half of the storage space in my purse is being spent on a large stack of gift cards.  Thankfully, there's now an app out there called Gyft which is designed to eliminate the gift card madness.  Keep reading to learn more!
Download the
Gyft app
and receive a $5 gift card to get you started!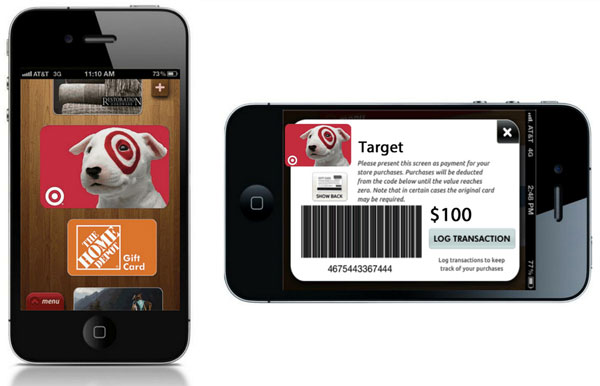 Kick Those Bulky Gift Cards to the Curb with Gyft
Gyft is a mobile gift card platform that enables consumers to manage their gift card needs.  Users can ditch the plastic and use their mobile device to store,send and redeem gift cards. For retailers, gyft creates a meaningful new revenue channel by giving brands visibility into the consumers that hold their gift cards. By using gyft's solution, merchants can drive customer acquisition, increase shopper interaction and drive social engagement.
Manage all your gift cards in one place
Upload cards by snapping a photo or entering information
Redeem cards in-store or online
Send gift cards to friends via Facebook, email or text message
Receive reminders for friends important events by connecting through Facebook
Get free gift cards by simply downloading the app
When you first visit Gyft.com, you'll notice that there isn't a download link per se, but rather a way to have the app's link sent directly to your cell phone.  I guess I didn't pay close enough attention, but at the moment the gyft app is only available for Apple-based phones.  I currently have a Windows phone and quickly discovered the download link didn't work for me.  Thankfully, once I tried the link on my iPad, I downloaded it without any issues.
I was totally jazzed about the gyft app, for as I mentioned earlier, my purse overfloweth with gift cards.  Getting started with the gyft app was really easy.  Simply tap on the "Add a Gift Card" button and follow the prompts.  You can type in the gift card's number and pin and then enter the balance on the gift card itself.  Apparently, you can also input a gift card into the gyft app by taking a picture of it, but I didn't see that option available and rather used the manual keyed entry instead.
When I input all three of my Starbucks gift cards, I was pleased that the gift card amount of each one was automatically filled in for me. Unfortunately, for the myriad of other gift cards I entered, this was not the case.  I then had to go to each vendor's website, find out how much was on each card and then enter that again in the gyft app.  I found this rather tedious, but before long, I had all of my cards entered in and at my fingertips.
Now that everything was loaded up, I could literally ditch the plastic once and for all.  I found just a few vendors not listed in the gyft directory (Academy, Spec's and Cool Cuts), so I had to hold on to those cards, but the rest could be safely tucked away in a drawer instead of lugged around in my purse.  If you'd like to give a gift card, that's quick and easy too.  You can even give away a gift card you already own or buy a brand new one to send.  I love the re-gifting aspect of this app, for there are several gift cards I own which aren't exactly my cup of tea, but I know a few people that they'd be perfect for.
I'm definitely glad to have discovered the gyft app, for giving and receiving with gift cards has been made much easier than before.  Now, I can see exactly what I have on hand and keep them with me without taking up a huge chunk of my purse.  I can't wait until the gyft app is made available for both Android and Windows phones so that you can truly gift and go!
Disclosure: This review was made possible by Mom Spark Media. Thoughts are my own. I received compensation for my time investment and work on this campaign. 
I'm a former 7th grade Science teacher turned stay-at-home mom that lives in Houston, Texas. I am married to my college sweetheart and have a beautiful daughter named Riley, who definitely keeps me on my toes! I am also involved in starting a small business which would both manufacture and sell an invention that I've patented, called Toothpaste 2 Go. I love interacting with my readers and hope to learn as much about you as you learn about me!
Melissa @ Mommy Living the Life of Riley!