Whoopee cushions, snake in cans, and squirting flowers are as much a part of childhood as grass stains and ice cream sundaes.  Pranks have always had a holiday, but it's about time that the best be collected in an encyclopedia.
Pranklopedia: The Funniest, Grossest, Craziest, Not-Mean Pranks on the Planet! is the brainchild of Julie Winterbottom, former editor in chief of Nickelodeon magazine.  The 72 kid- and adult-tested pranks will have everyone in stitches - the safe, hilarious kind.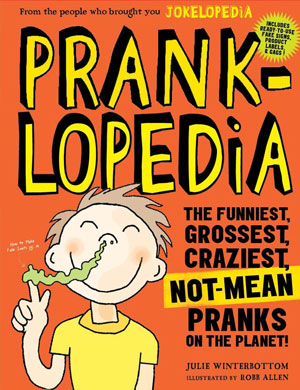 Classic tricks like making real-looking-but-totally-fake dog poop appear alongside brand-new ones like Kitchen Cabinet Caper (page 96): Use the full-color labels printed in the back of the book to trick your family into believing that tonight's dinner is a nice bowl of "Cream of Sparrow" soup.  Each prank has been tested on the author's own friends and family for verified surprise and comedy and includes comic book-style illustrations by Robb Allen.
Pranklopedia turns every day into April Fools' Day, showing readers how to pull the perfect prank, such as:
Parade of Fools (page 116): Following the lead of legendary prankster Joey Skaggs (who, as the book tells, has duped CNN, USA Today and Good Morning America), convince your friends to dress up in crazy outfits for a parade that doesn't exist!
Loony Labels (page 100): Using the included labels, fool your friends and family into believing that milk is "now fortified with iron and concrete" and that their favorite candy is "99% Fart-Free!"
Message from a Ghost (page 80): Surprise someone with a spooky message on the bathroom mirror.  Wait for them to take a shower and fog it up, then use lemon juice to write your note!
Plus, the book details some of the best pranks ever.  Did you know that George Clooney once pulled a painting from a heap of trash, signed it, and presented it to a friend as a gift?  And that the painting hung on his friend's wall for two years before Clooney confessed?  Chock-full of this and other highlights from the Prankster Hall of Fame, this book is loaded with prank-spiration!

Disclosure:  I received the Pranklopedia book from Workman Publishing in order to facilitate my review. No other compensation was received. 
I'm a former 7th grade Science teacher turned stay-at-home mom that lives in Houston, Texas. I am married to my college sweetheart and have a beautiful daughter named Riley, who definitely keeps me on my toes! I am also involved in starting a small business which would both manufacture and sell an invention that I've patented, called Toothpaste 2 Go. I love interacting with my readers and hope to learn as much about you as you learn about me!
Melissa @ Mommy Living the Life of Riley!