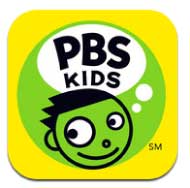 PBS KIDS released data from its annual holiday tech survey which finds this year's hottest gift for kids will be downloadable.  In fact, fifty-eight percent (58%) of parents of kids 2-10 reported that they will "most likely" or "definitely" be purchasing downloadable gifts such as apps, games, e-books and digital music.
This holiday season, PBS is offering some quick tips to help parents navigate successful selection and use of downloadable gifts:
Appropriate Children's App Selection and Use Tips from PBS Kids
1.    Keep it Fresh: A good app is the perfect combination of education and entertainment, and should be appropriate for your child's age and stage of development. Kids are most engaged when the features in an app address as many senses as possible and when these features offer variations on a theme, and are not too repetitive. Keep in mind your child's age and skill set and choose games that present the right amount of challenge without becoming frustrating.
2.    Safety First: Parenting today includes teaching kids how to use digital media responsibly. Help children recognize the difference between information worth sharing and private information. There are many ways you can share your ideas and creativity online, but personal information should remain private.
 3.    Avoid apps that try to sell: A six- or seven-year-old can't be expected to distinguish between an entertaining game and advertising.  Select apps from trusted, reliable sources, and make sure that they are not trying to market to your child.
 4.    Play Together: 56% of surveyed parents reported that they co-play mobile apps with their children "often" or "sometimes". This is a great habit to start early in a child's exposure to media. Talking with kids about the game or activity as you play offers both the opportunity to bond as a family and also identify teachable moments.
 5.    Set limits: As with any new toy, parents should set expectations and limitations with their kids. Enjoying downloadable apps and games should be balanced with other offline activities and play.
Top Educational App Choices from PBS Kids
FIZZYS LUNCH LAB Fresh Pick: Search for the Next Lunch Labber **Launching Thurs, Dec 13** - Professor Fizzy is holding a competition to see who has what it takes to be the next Lunch Labber! Kids put math and problem solving skills to the test while navigating their way through the grocery store, coming up with the right amount of change in the check-out line, and successfully serving food to a room full of hungry customers.  For iPad, Kindle Tablet and Nook Tablet for kids ages 6 – 8.
DANIEL TIGER'S NEIGHBORHOOD "Play at home with Daniel

"

- Playing is learning as kids explore bedtime, bath time ad play pretend doctor at Daniel's house. For iOS and Android devices, Kindle Tablet and Nook Tablet for kids ages 2+.
SUPER WHY! ABC Adventures: Alphabet - Named one of the Top 25 iPad Apps for kids by TIME.com, kids can play five literacy games while mastering the alphabet. On iOS devices for ages 3+.
DINOSAUR TRAIN "Mesozoic Math Adventures" - Kids develop math skills and explore life sciences, vocabulary and concepts alongside Buddy, Tiny and Don. For iPad, Nook Tablet, Kindle Tablet for kids ages 3+.
Martha Speaks Word Spinner - Up to four players can join in the fun, with six interactive mini-games that both kids and parents can enjoy together while building storytelling and vocabulary skills. For iPad for kids ages 4+.
Cyberchase 3D Builder - Kids can help rebuild a town turning 2D shapes into 3D structures while developing spatial and reasoning skills. For iPad for kids ages 6+.
PBS KIDS has 20+ educational mobile apps available for download.  Additional data from the annual PBS KIDS holiday tech survey can be found here: http://www.pbs.org/about/news/archive/2012/holiday-tech-survey/
I'm a former 7th grade Science teacher turned stay-at-home mom that lives in Houston, Texas. I am married to my college sweetheart and have a beautiful daughter named Riley, who definitely keeps me on my toes! I am also involved in starting a small business which would both manufacture and sell an invention that I've patented, called Toothpaste 2 Go. I love interacting with my readers and hope to learn as much about you as you learn about me!
Melissa @ Mommy Living the Life of Riley!