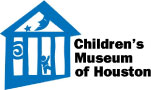 I was recently honored by being asked to take part in a local initiative sponsored by the Houston Area Cadillac Dealers.  They are hosting a wonderful contest called the Cadillac Cares Challenge, whereby one of three worthy charities will be given $50,000 in advertising from Cadillac.  Now, I would really like to ask your support for one of my absolute favorite charities in the Houston area, the Children's Museum of Houston.
If you happened to read my previous post, you learned all about how I came to love the Children's Museum of Houston and why it is such an essential component of our city's community.  Now, I want to share with you some of the awesome exhibits and features of this museum, which make it one of the best options around for some serious summer fun with your children!
Speaking as a former Science teacher, I love how the Children's Museum of Houston has so many fun and creative ways to immerse kids of all ages in every aspect of Science.  There are so many interesting and educational exhibits here that it's hard to know exactly where to begin.  For instance, check out this quick video highlighting the PowerPlay exhibit, whose goal is to get children excited about health, physical fitness and exercising their bodies:
Kidtropolis, USA is also one of the most innovative exhibits in the entire museum for it allows children to perform almost every adult task imaginable within the confines of their own "kid-run" city!  Every year, my Science students couldn't wait to take Kidtropolis by storm when we'd visit the Children's Museum of Houston on our annual field trip!
STAY IN TOUCH: Want to be in the loop? You can also check out the Children's Museum of Houston on the following sites:
Children's Museum of Houston
There are so many other excellent children's exhibits at the museum, such as the Think Tank and the Matter Factory.  I really appreciate these exhibits for many of the concepts taught here are typically very difficult for children to understand, such as how our sense of smell truly works...on the nanometer level!  I don't know how many times I witnessed my students having that "Aha!" moment after they interacted with a specific exhibit at the Children's Museum of Houston.  The museum helped bring Science alive to every one of the children we'd bring there.  You just can't put a price tag on a facility that can inspire children's minds and talents in this way.
Please join me in supporting this essential Houston charity by casting your vote in the Cadillac Cares Challenge.  The museum is currently in second place and needs your daily vote through June 6, 2011 to put them over the top!  Voting couldn't be easier either.  Simply visit the Houston Area Cadillac Dealers Facebook page and click on the Cadillac Cares Challenge on the left sidebar.  Then, "like" your favorite charity, which I hope is the Children's Museum of Houston, and that's it.  Drop by again the next day and vote once more!  Thanks so much for your support.  If you're ever visiting the Houston area, make sure to stop by and check out this fabulous children's museum for yourself!

LET ME PICK YOUR BRAIN!
What is your favorite air-conditioned option for summer fun with the kiddos?
Disclosure:  I received a gift card from the Houston Area Cadillac Dealers for helping to promote the Children's Museum of Houston in the Cadillac Cares Challenge.
I'm a former 7th grade Science teacher turned stay-at-home mom that lives in Houston, Texas. I am married to my college sweetheart and have a beautiful daughter named Riley, who definitely keeps me on my toes! I am also involved in starting a small business which would both manufacture and sell an invention that I've patented, called Toothpaste 2 Go. I love interacting with my readers and hope to learn as much about you as you learn about me!
Melissa @ Mommy Living the Life of Riley!