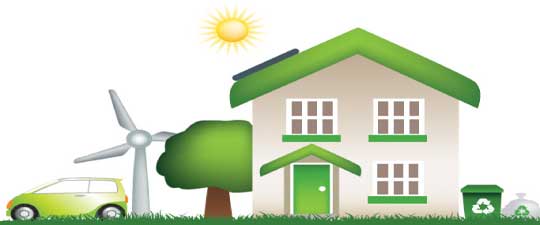 Do piles of crumpled wrapping paper make you cringe? Do you pity the poor spruce that was sacrificed for the seasonal celebration? As a famous frog once said, "It's not easy being green." During the holiday ...
From R2-D2 to Transformers to Wall-E, kids are obsessed with robots.  So what could be more enticing than turning a tape dispenser and on old eater bottle into a functioning robot? The irresistible Recycled Robots book ...
Call me old-fashioned, but there is one Christmas tradition that I will never break, and that is the sending of Christmas cards to all my friends and family every year.  Checking the mail during the month ...
In the next few weeks, we'll be entering into the craziest travel season of the year.  Did you know that there are roughly 10 million airline flights in the U.S. alone?  And a large percentage ...
It's every household's never-ending chore…LAUNDRY!  I swear, I don't understand how just three people can dirty up so many clothes so fast, but my family always seems to manage.  I actually shudder to think ...
During the fall, we frequently hear tips about how to better weatherproof our homes for the cold winter season that lies ahead. I haven't read a tip list yet which didn't mention using a programmable ...
As you may remember reading in a previous post, I was lucky enough to be chosen as a Maytag Dependable Laundry Mom!  With that designation comes the perk of trying out the new Maytag Bravos ...
Did you know that more than 85% of our kids aren't drinking the recommended amount of water each day?  If just 2% of the body's normal water volume is lost, dehydration symptoms can begin, which ...
Speaking as someone who hasn't been blessed with trouble-free skin, I've spent my life searching for the perfect skin care regimen for my particular set of skin challenges.  Basically, I need a system which ...
Decorating a nursery is a special and exciting time. But when you've never had a baby before, it can also be overwhelming. Little babies need a surprising amount of stuff, including things you may ...
From as far back as I can remember, I've been a list maker…to-do lists, grocery lists, wish lists, shopping lists.  You name it and I'll make a list for it.  Especially now that I'm getting ...
Healthy Home and Lifestyle experts Laura Forbes Carlin and Alison Forbes have created the "Easy Feng Shui with Augmented Reality" iPhone app to help guide you in creating a healthy home. Using an overlay technique known ...
I don't like to admit my vanity, but I have a feeling that I probably spend too much time in front of the mirror.  Once I'm done washing my face, applying toner and a myriad ...
As any cat lover will tell you, there's one major downside to caring for our fluffy friends and that's the litter box.  This stinky, smelly contraption needs constant maintenance and care so that your entire ...
When I was a little girl, I can remember being so excited to actually receive something in the mail.  Back before there was email, text messaging and standard shipping times of just a few business ...
Each year on April 22, the Earth Day celebration is a reminder of environmental concerns. Go green on Earth Day by committing to environmentally friendly changes at home, at work and in your community. Earth ...
Going grocery shopping these days can be quite an experience!  There are so many different tastes and flavors right at your fingertips to choose from that often it can be difficult to decide which product ...
I've always tried to treat my bedroom as a sleep sanctuary and have taken great pains to make sure that the lighting (or lack thereof), linens, mattress and pillows are all conducive to a great ...
The summer season has so much to offer:  backyard barbecues, swimming at the pool or lake, vacations at the beach…and SHOES!  I always look forward to shedding my bulky socks and shoes and pairing some ...
It seems that all small children have a favorite stuffed animal, soft toy or "lovey" of some kind.  These valuable companions usually go everywhere with your child: outside to play, at the table during meal ...
Summer is a season for fun in the sun, but because I live on the Gulf Coast, it's also a season for caution and keeping a wary eye on the seas.  I've lived my entire ...
Once again another annual celebration of all things green, Earth Day, has come and gone.  While many people offer advice on being kind to Mother Earth around this time, too many of these tips don't ...
My mother sent me this amazing video clip and I'm surprised at just how much this story affected me.  I was enthralled and enraptured and in the end, had a huge smile on my face. ...
Now that the weather is warm and the grass is green, my family will undoubtedly be outside enjoying it.  You see, I have a rather outdoorsy kind of brood who can always be found riding ...
If you have a pet, then you're already well aware of just how special the bond between the both of you can be.  My dog, Noel, is the best friend a girl could have. ...
Most people carefully watch their time and money, making sure neither are wasted on unnecessary activities or expenses.  In an effort to be more green, why not also consider how your home's energy is used ...
I love it when I have the opportunity to showcase a company that takes the welfare of our Earth seriously and aims to try and help our planet, instead of contributing to its many ...
Vermont Soap has expanded its collection of the nation's first certified organic foaming hand soaps with the launch of Tea Tree Mint Foaming Hand Soap.  The new, certified organic foaming hand soap combines the legendary ...
I'm proud to say that my family recycles regularly and once you get into the swing of things, you'll be amazed at just how much of your regular trash can be recycled.  There's the ...
As a mom, I feel it's my job to do my best to keep my family safe and healthy.  Carefully reading food labels in order to eliminate harmful toxins from our diets, like trans-fats ...