Posted by: Melissa @ Mommy Living the Life of Riley on November 8th, 2013 Filed in:
Product Reviews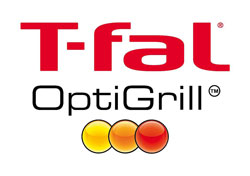 Now that Riley is getting older, I am much more concerned with how healthy we, as a family, are eating.  Meat is a great source of protein and so we include a serving of meat every day in Riley's diet.  Of course, preparation is key in determining how healthy any food really is and so I was very glad to have the opportunity to try out the brand new T-fal OptiGrill.
The T-fal OptiGrill is the new, one-of-a-kind way to grill indoors. The innovative OptiGrill features a cooking sensor that guarantees a perfectly cooked meal every time. The built-in sensor automatically adapts to the thickness of your food and delivers perfect doneness from rare to well-done for six different programs: burgers, poultry, sandwiches, sausage, red meat and fish.
The
T-fal OptiGrill
is available at Bed Bath and Beyond and retails for $179.99.