Disclosure:  I participated in an Ambassador Program on behalf of Mom Central Consulting for Sprint. I received product samples to facilitate my review.
Now that school is in full swing and the holiday rush is creeping in, life couldn't be any busier!  A work-at-home mom like myself must stay organized and connected or else everything would fall in around my shoulders.  Here's a typical list of chores on an average day, which I'm sure you all can relate to:
Fix breakfast for everyone
Take daughter to school
Chaperone Halloween party
Come back home and wait for cable guy to repair service
Wash clothes
Do dishes
Work on a blog post
Work on my home business
Pick up my daughter from school
Go grocery shopping
Cook dinner
Family time
Bathe daughter
Pack lunches
Shop for holiday gifts
Work on a blog post
Work on home business
Go to bed just to get up and repeat!
Thankfully, Sprint and Motorola are there to help us busy moms keep our sanity, all while propelling us to "Super Mom" status.  So just how does a handheld device help organize a busy life?  Keep reading to find out!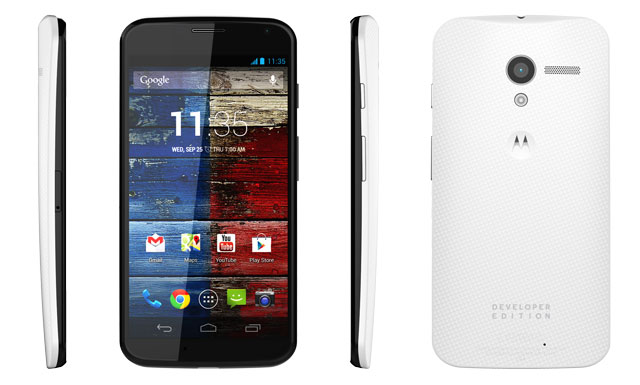 The Moto X, powered by Sprint, is a lifesaver for anyone on the go.  This Android phone unlocks the power of all things Google, making it easier than ever before to hold your "online world" in the palm of your hand.  The Sprint 4G LTE capabilities will ensure you are connected at lightning fast speed while the X8 Mobile Computing System and 1.7 GHz dual-core application processor will hum through all of the data and tasks you throw its way.
Because the Moto X is Google based, you can seamlessly meld Google Search, Gmail, Google Calendar and YouTube from your home computer to your smartphone quickly and easily.  There's also Corporate Outlook email available thanks to Microsoft Direct Push Technology and the included mobile hotspot functionality ensures that up to 8 Wi-Fi enabled devices can connect to the Moto X simultaneously.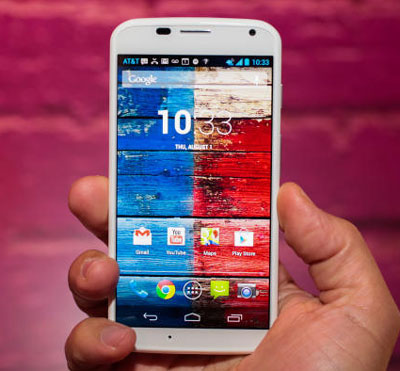 Of course, the Moto X isn't all business and offers plenty in the way of entertainment value as well.  Just look at all of the fun you can have with the Moto X:
Touchless Control - Without touching the phone at all, you can check the weather, get directions or do just about anything.  Just say, "OK Google Now" and your phone will learn your voice and speech patterns.
Active Display - Moto X is always paying attention.  Information quietly appears on the screen to tell you what you need to know, without being obtrusing and alarming.
Quick Capture - Just with two quick twists of the wrist, Moto X is ready to shoot.  Touch anywhere on the screen and you'll get an amazing shot.  Perfect for when I spot a celebrity or something incredibly funny that happens in an instant.
Dual Cameras - 10 MP rear-facing camera with LED flash, 4X digital zoom and video capture, 2 MP front-facing with video capture (for those perfect "selfies").
Sprint TV and Movies - More than 15 channels of live sports, live breaking news and full episodes of the most popular daytime, prime time and kids entertainment.
Sprint Music Plus - A full-featured music store and player for music tracks, ringtones and ringback tones, including millions of DRM-free music tracks and tones updated daily
I'm quite the shutterbug now since using the Moto X and I've quickly fallen in love with the quick capture feature.  I timed myself and can literally take a picture in just 3 seconds!  That's going from a complete resting phone to picture in hand...amazing!  My husband laughs every time he sees me start shaking my wrist because he knows it's paparazzi time!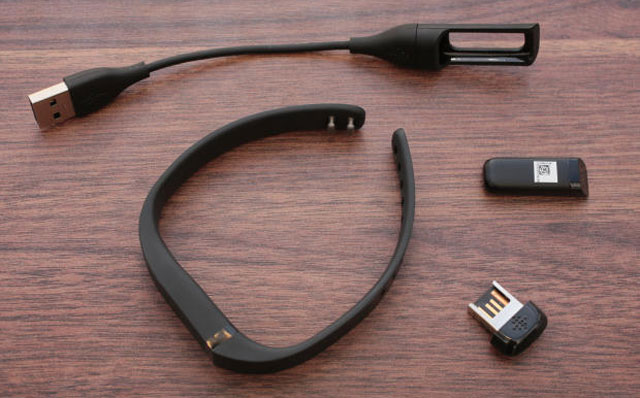 Since watching one too many documentaries about how our modern food supply is basically killing us all and severely compromising our health, I've totally revamped my lifestyle and am on a whole foods, low-fat, plant-based diet.  This change has taken me several months to implement and has been a tremendous amount of work.  Thankfully, the Moto X coupled with the Fitbit Flex has made the transition quite a bit easier for me.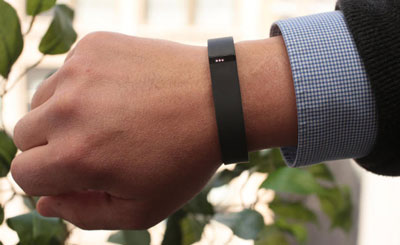 The Fitbit Flex integrates well with my favorite app in the world, My Fitness Pal.  Not only does the Fitbit Flex track the steps, distance, calories burned and active minutes I log each day, it even monitors how well I sleep!  It can wake me with a silent alarm (buzzes briefly on my wrist) when I need it to and has an easy-to-wear, super slim and comfortable wristband.
The best part is, the Fitbit Flex syncs automatically to both my laptop and Moto X so that I can always track my progress.  Now, I can set goals, view my progress over time and even earn badges, all while competing with my friends who are also using a Fitbit device.  The battery only needs to be charged once every 4 or 5 days and because it's water resistant, I can even wear it in the shower.
Now with the Moto X Android Smartphone and Fitbit Flex, I feel like there is no task I can't accomplish and my day-to-day routine is much more organized and easier to manage.  Do yourself (and your health) a favor and integrate both the Moto X and the Fitbit Flex into your life today!
I'm a former 7th grade Science teacher turned stay-at-home mom that lives in Houston, Texas. I am married to my college sweetheart and have a beautiful daughter named Riley, who definitely keeps me on my toes! I am also involved in starting a small business which would both manufacture and sell an invention that I've patented, called Toothpaste 2 Go. I love interacting with my readers and hope to learn as much about you as you learn about me!
Melissa @ Mommy Living the Life of Riley!